I received this book for free from NetGalley in exchange for an honest review. This does not affect my opinion of the book or the content of my review.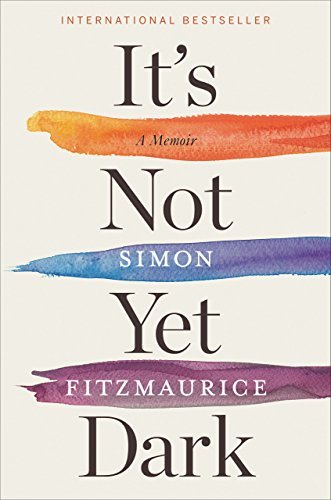 It's Not Yet Dark

by Simon Fitzmaurice
Published by Houghton Mifflin Harcourt on August 1st 2017
Genres: Biography & Autobiography, Personal Memoirs, Medical, Entertainment & Performing Arts, Health & Fitness, Diseases, Nervous System (incl. Brain)
Pages: 176
Format: Electronic ARC
Source: NetGalley
Buy on Amazon
Goodreads


It's only important that you remember that behind every disease is a person. Remember that and you have everything you need to travel through my country.
One month after his film was accepted into the Sundance Film Festival, Irish filmmaker Simon Fitzmaurice's foot began going limp. The sensation passed, but his symptoms continued to escalate until they couldn't be ignored any longer. At only 34-years-old, Simon was diagnosed with ALS (Lou Gehrig's disease/a form of MND). Over the next two years, "the seesaw balance of strength and weakness" quickly began tipping more towards the side of weakness. When the disease took away his ability to breathe on his own, Simon's doctors said it was the end. They began to counsel him on his end-of-life options, but Simon knew it wasn't his time to go. Surrounded by the love of his family and friends, there was so much to live for.
I want to live. Is that wrong? What gives a life meaning? What constitutes a meaningful life? What gives one life more value than another? Surely only the individual can hope to grasp the meaning of his or her life. If not asked if they want the choice to live, it negates that meaning.
ALS is an unpredictable disease that progressively destroys the nerve cells that control voluntary muscle movement. While the disease takes so much away from a person, there's still an opportunity to lead a full life. Simon advocates for patients to be made aware of all their options and allowed to decide their own fate. There are many technologies that help improve the quality of life of ALS patients: "The disease takes your ability to speak. But it need not take your voice." Simon is still able to control his eye muscles, so he wrote the entire book using an eye-gaze computer.
It's very much a filmmaker's book! This short, evocative memoir is composed of fragments–the memorable scenes that constitute a life and poetic bursts. He doesn't always take a straightforward approach to telling his story. Just when it seems the story is ending, he darts back to his coming-of-age years ("What is man?") and then returns to the present ("I'm still man"). I actually didn't appreciate this section until I went back over it later: "How much spans the divide between Before and After? What is Man? How much can be taken away and what is left?"
I do not eat or drink or walk or talk the way you do. I don't breathe without a machine helping me day and night. I cannot move my arms or legs. And yet. I'm still man. I've lost so much. And yet. I'm still here. I feel everything. The slightest feather touch anywhere on my body. And my heart is alive. To meaning. To value. To love. Which is all it's ever been about.
It's Not Yet Dark is a beautiful testament to the love of family and life. I read this book because I was curious about the medical side of things, but my favorite parts ended up being the Fitzmaurice's love story and his description of precious moments with his children. Sometimes the quietest moments are the most powerful. Simon Fitzmaurice is an example of the full existence that can be led after all seems lost. When he was diagnosed, he was given a prognosis of three to four years. Defying the odds, he is still watching his children grow up and producing films nine years later. He doesn't deny the daily struggles, both emotional and physical, but the sacrifice is worth it to extract all he can out of this fleeting, fragile life. It may not be the life he would have imagined for himself, but it's still a life.
The emotional trailer for the It's Not Yet Dark documentary gives a good sense of the tone of this book. Its release date is August 4, 2017. His wife Ruth's memoir I Found My Tribe coming out in Spring 2018. If you like this book, you might also be interested in The Diving Bell and the Butterfly by Jean-Dominique Bauby.
LINKS
• It's not yet dark for filmmaker Simon Fitzmaurice – Simon's story
• How Ruth Fitzmaurice found her tribe in Ladies Cove, Greystones
• My Name is Emily trailer– A film made after his diagnosis. It stars Evanna Lynch, the actress who played Luna Lovegood in the Harry Potter series.
• Breathing and ALS – This handout from the ALS Association Greater Philadelphia Chapter outlines some of the benefits and problems with ventilation for ALS patients.
• Wild and Precious Life by Deborah Ziegler – A few months ago, I read a book about a young woman who made a very different choice when confronted with a terminal diagnosis. Brittany had a very different outlook on life, but there's a very similar issue at the heart of both books: dominion over your own body.
• I'm currently reading Admissions by Henry Marsh, and this quote about the ease of assuming your future state of mind when you're well stuck with me: "When you are feeling fit and well, it is relatively easy to entertain the fantasy of dying with dignity by taking your own life, as death is still remote. If I don't die suddenly, from a stroke or a heart attack, or from being knocked off my bicycle, I cannot predict what I will feel when I know that my life is coming to an end – an end which might well be distressing and degrading. As a doctor, I cannot have any illusions. But it wouldn't entirely surprise me if I started to cling desperately to what little life I had left."
Related Posts