I received this book for free from NetGalley in exchange for an honest review. This does not affect my opinion of the book or the content of my review.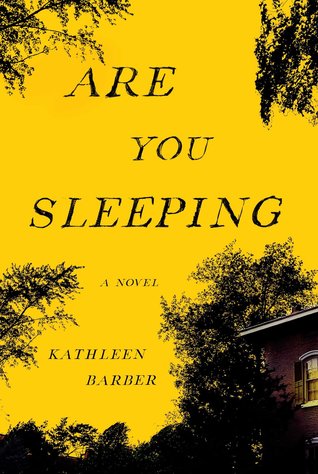 Are You Sleeping

by Kathleen Barber
Published by Simon and Schuster on August 1st 2017
Genres: Fiction, Thrillers, Suspense, Crime, General
Pages: 336
Format: Electronic ARC
Source: NetGalley
Buy on Amazon
Goodreads


It's been thirteen years since Josie's father was murdered and twelve years since his murderer was imprisoned. The tragedy destroyed the family. Josie hasn't talked to her mom or twin sister in over a decade. She thought she left all of that baggage in the past, but blogger/journalist Poppy Parnell is hosting a hit serial podcast that's bringing the closed case back into the public eye. Josie panics. She's spent the last decade trying to forget that night and now everyone is talking about it. She changed her last name and hasn't even told her long-term boyfriend the truth about her family. As horrified as she is by the idea of the podcast, she can't resist listening in. She begins to doubt her sister's story, losing the only closure she ever had. Could her sister have been mistaken, or even lying, about what she saw that night? Has an innocent man been in jail for the last twelve years?  Things get even worse for the Buhrman family when Josie's mother dies shortly after the release of the second episode. The untimely death forces Josie to come out of hiding and confront the painful past she has been running away from. Will she finally have to face the sister who betrayed her?
"The truth is never complicated. It's just the truth. Circumstances may be complicated, but the truth is always black and white."
It's an addictive read, but not a memorable one. The non-generic cover reeled me in, but in the end it felt like many of the other thrillers I've read lately. These first-person narrators with dark pasts are all starting to sound the same: bland personalities & the obsessing over past events with increasing detail as the story goes on. However, I liked that Josie had to go back to her hometown and interact with her family again, so she wasn't completely isolated from other people. I loved her bossy but loyal cousin Ellen! The other problem was that I didn't have the sense of urgency that I like to feel when I read mysteries. No one seems to be threatened by outside danger and Josie isn't driven by finding the truth. In fact, she spends most of the story pushing away the one person who knows what happened.
Some of my favorite parts of this book deal with social media. Josie experiences having the worst moments of her life viewed as entertainment. Her story forces us to witness the ramifications of viewing someone's tragedy as a guilty pleasure. Poppy claims she's merely an objective party trying to ascertain the truth, but her sensationalist reporting leads to people harassing the family. Interspersed between the chapters are Reddit threads, Twitter discussions, Facebook threads, and podcast transcripts. The author nailed the back-and-forth between the armchair detectives! Everyone is certain their theory is the correct one. People with firsthand knowledge are eager to betray the family and share what they know with the masses for a tiny taste of fame or Internet points. The listeners create caricatures out of the Buhrmans and tend to analyze every clue in the least charitable way possible. For instance, Poppy and many of her fans assume that the Buhrman family's reluctance to talk means they're hiding something—but perhaps it just means they want to be left alone.
"You have to take care of the people you love or you lose them."
What was the final breaking point between the sisters? What really happened the night of Chuck Buhrman's death? Are You Sleeping? is a story about a family ripped apart by tragedy. One-by-one, the Buhrman women went their separate ways, taking on new identities to escape their emotional pain. Josie's mother joined a cult and her sister turned to drugs. Josie traveled the world and avoiding forming any attachments for as long as she good. Will anyone in this family ever be able to forgive themselves? Is there any chance for closure in this family's future? Hopefully, they'll be able to sort out the truth—preferably before Poppy Parnell broadcasts it to her five million listeners.
Related Posts