I received this book for free from NetGalley in exchange for an honest review. This does not affect my opinion of the book or the content of my review.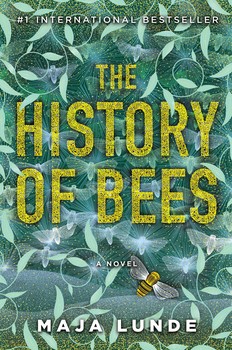 The History of Bees

by Maja Lunde
Published by Simon and Schuster on August 22nd 2017
Genres: Fiction, Literary, Historical, Sagas
Pages: 352
Format: Electronic ARC
Source: NetGalley
Buy on Amazon
Goodreads


Without bees, the flowers were just flowers, not blueberries, not bread and butter.
The three protagonists are multiple generations apart, but their lives are all linked by the fate of bees:
• Sichuan, China in 2098: Pollinating insects completely disappeared from Earth over half a century before, so humans have assumed the bees' job. In order to survive, humans have refined the arduous process of hand-pollination. Children's are trained for the job as soon as they enter school and they begin working when they turn eight-years-old. Like any parent, Tao wants her three-year-old son Wei-Wen to have more opportunities than she did. She spends her little time off teaching him, so that he can attend a special leadership-training school and avoid a lifetime of back-breaking labor. When Wei-Wen mysteriously collapses and is taken away by the authorities, everything changes. She blames herself because she thinks it's her dreams for him that put him in a bad situation. She is willing to sacrifice everything to find her son.
• Hertfordshire, England in 1851: William is a biologist whose academic specialty is superorganisms. Superorganisms are individual insects that function together as a single organism; they need each other in order to survive as a whole. William sank into a deep depression after his mentor belittled him for sacrificing his life's work to have a large family. When his passion reignites, he becomes obsessed with building the perfect beehive, one that will benefit both the beekeepers and the bees. He wants his son Edmund to continue his research, but Edmund is disinterested in his father's attempts to lure him into the family business. William's obsession with making his son carry on his legacy prevents him from seeing the true heir to his research.
• Ohio, USA in 2007: George descends from a long line of beekeepers. He devotes his entire life to his bee farm and ensuring his bees are thriving. He wants his son to take over the farm, but his son is more interested in his college studies and cultivating his writing career. The stress of bee farming increases when bee colonies begin disappearing in the southern USA. While his bees are doing fine so far, the future of his farm becomes uncertain.
She read about knowledge. About acting against one's instincts, because one knows better, about how in order to live in nature, with nature, we must detach ourselves from the nature in ourselves. And about the value of education. Because this was what education was actually about, defying the nature in oneself.
The History of Bees is about letting go and resisting the impulse to exert control over everything. Every parent and mentor in this book has a fixed vision for their child's or apprentice's future. There seems to be the expectation that the next generation "justify [their] position on this earth." Trying to tame the natural order has disastrous consequences. Each character has a firm idea of their child's place in the universe and the means through which that place will be achieved, but it's not until they relax their control that they are able to gain clarity. One major lesson is that one doesn't have to choose between life and passion. Sometimes that passion is our contribution to our families and the future.
A single person's life, a single person's flesh, blood, body fluids, nerve signals, thoughts, fears and dreams meant nothing. My dreams for [my son] didn't mean anything, either, if I failed to put them into a context and see that the same dreams had to apply to all of us.
There are so many beautiful moments of interconnection throughout the story. Tao decorates her son's room with fluorescent star stickers that used to adorn her own childhood room. She feels as if she created "a bond between my own childhood and his, between us and the world, between the world and the universe." On a larger scale, there's a moment when Tao watches a documentary about the beekeepers who were affected by Colony Collapse Disorder. History comes alive for her. At another time she may have thought the interviews were just "testimonies from another time" from "people who had nothing to do with [her]," but with experience she realizes that "every single personal catastrophe meant [her] own."
"And having been freed from sin, you became slaves of righteousness." What did that mean? That he who is captive is perhaps the only one who is truly free? Doing the right thing can be a prison, a form of captivity, but we had been shown the way. Why didn't we manage it, then? Not even in meeting with His creation did human beings succeed in doing the right thing.*
This book was originally published in Norwegian, but I read the English translation. I chose this book because I love dystopian fiction and the "in the spirit of Station Eleven and Never Let Me Go" blurb called my name. I can see the Station Eleven comparison more clearly than Never Let Me Go. The thing that draws me to Kazuo Ishiguro's work is the haunting, melancholic atmosphere and I just didn't get that from this book.
I debated on whether to round my star rating up on down. I decided to round up because somehow it managed to worm its way into my heart! The downsides of this book were the pacing and some of the characterization. It was slow paced at times, so my interest waxed and waned. It occasionally comes across as a "message" book, but it's not overly heavy-handed. It almost had a YA feel to it—especially George's chapters—even though there are no young adult main characters. (I found out after writing this review that this is the author's first novel for adults.) Tao was my favorite of the three perspectives. She felt the most human, while William and George felt like characters. Even though the male characters didn't feel as authentic to me, they still had interesting stories. William is strange and insufferable, but his passion for the natural world is contagious. Some of my favorite chapters were actually in his sections, when he talks about the lifecycle of bees (at the 45% & 87% mark of my copy). George is old-fashioned and set in his ways. He's never able to say the right thing. His folksy simplicity didn't always ring true to me, but I could understand the dreams and fears that motivated his actions and resentments.
Alone she's nothing, a part so tiny that it's insignificant, but with the others she's everything. Because together they're the hive.
In The History of Bees, the author draws "connections between the small and the large, between the power of creation and creation itself." Every living thing in this book is "fighting the ordinary, daily struggle" for their descendants and survival. The three protagonists are decades, sometimes centuries, apart. They don't know each other and they may not live to realize how essential their contributions were, but together they make a huge impact on mankind's fate. The characters' lives and the lives of their offspring didn't go as planned, but their creative solutions influence humanity's future path. This book gave me a larger appreciation for all those who've come before us and made an impact on our lives, even if they would never get a chance to benefit from it.
OTHER
* My biblical knowledge is lacking, so I wanted some more context with this quote. This sermon helped me out: Slaves of Righteousness, Romans 6:19-23. It also has some analysis of 1984 and Brave New World, which was interesting!
* A reassuring article to read after reading this book: Bees Are Bouncing Back From Colony Collapse Disorder.
Related Posts