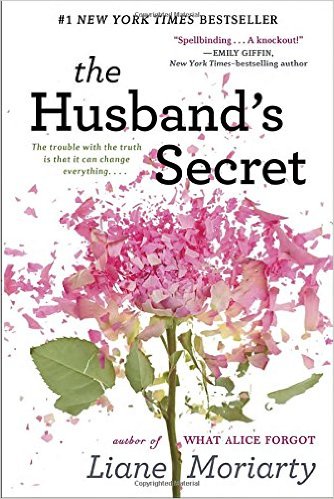 The Husband's Secret

by Liane Moriarty
Published by Penguin on July 1st 2013
Genres: Fiction, Contemporary Women, General
Pages: 418
Format: Audiobook
Buy on Amazon
Goodreads


This was how it could be done. This was how you lived with a terrible secret. You just did it. You pretended everything was fine. You ignored the deep, cramplike pain in your stomach. You somehow anesthetized yourself so that nothing felt that bad, but nothing felt that good either. (Cecelia)
3.5+ Stars. Cecilia found a mysterious letter from her very-much-alive-husband in the attic, labeled to be opened in the event of his death. Tess's husband has fallen in love with her cousin/best friend. Rachel is an elderly woman whose teenage daughter was murdered many years ago. The lives of these three very different women are destined to intersect, but how?
The husband's secret is actually revealed pretty early on (halfway or before), so the book is more of a character study than a mystery. It deals with relationships between the characters and the fallout from the event that is being concealed. I am really glad that the secret was revealed early, because I didn't know how much of Cecilia's handwringing over the letter I could take! The story does lose some steam after the big reveal and it does get repetitive at points. I think these things didn't bother me as much listening to the audiobook, as they would have by reading physical book.
"Her goodness had limits. She could have easily gone her whole life without knowing those limits, but now she knew exactly where they lay." (Cecelia)
Liane Moriarty is a great storyteller. Everything that happens lays the groundwork for the final act. Even weird mentions like the Tupperware and the Berlin Wall have significance. Everything comes together perfectly and in an authentic way. This author really excels at writing inner monologues and complex characters who don't necessarily react rationally when they are backed into a corner. Her characters are witty and self-aware. They think awful thoughts when they are hurt, but backpedal after some reflection. The characters' emotions waver and vacillate. They do the best they can with what they have to work with. They make decisions and then immediately regret them. I don't think I actually liked any of the characters' decisions, but I understand why they made them. It is really easy to judge from a distance! How many people can say they act 100% rationally when it comes to their loved ones?
"Tragedy made you petty and spiteful. It didn't give you any great knowledge or insight. She didn't understand a damned thing about life except that it was arbitrary and cruel, and some people got away with murder while others made one tiny, careless mistake and paid a terrible price." (Rachel)
The epilogue: View Spoiler »I did not think the epilogue absolved John-Paul of his crime. His actions set off an immediate chain of events that wouldn't have happened otherwise. I liked exploring the what-ifs at the end of the book. I like hypotheticals, which is probably why I am always paralyzed with indecision! The part that broke my heart the most was that if Rachel and her husband had just opened up to each other, they wouldn't have had to carry their burdens alone. « Hide Spoiler
I did prefer this book to Big Little Lies. There are many similarities, but the focus on playground politics in Big Little Lies made me enjoy it a little less, although that one was much more fun on the mystery front! The audiobook narrator was absolutely perfect and she really was an asset to this book. The story really came alive through her vocal performance. The same narrator also did Big Little Lies and I think I probably would have enjoyed it more with her narration! The only bad thing about the audio is that it takes me longer to adjust to all of the perspective changes and flashbacks.
This book is about the explosive nature of secrets and all of the little coincidences, misunderstandings and decisions that make up a life. If you enjoy women's fiction or you enjoy people watching, I think you will like this book! You might also want to check out Jojo Moyes.
"Perhaps nothing was ever "meant to be." There was just life, and right now, and doing your best. Being a bit "bendy." (Tess)
Related Posts