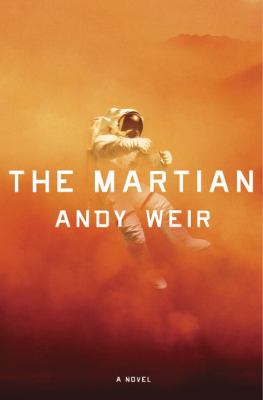 The Martian

by Andy Weir
Published by Crown/Archetype on February 11th 2014
Genres: Fiction, Science Fiction, Action & Adventure, Hard Science Fiction, Thrillers, Suspense
Pages: 384
Format: Audiobook
Buy on Amazon
Goodreads


"I can't wait till I have grandchildren. When I was younger, I had to walk to the rim of a crater. Uphill! In an EVA suit! On Mars, ya little shit! Ya hear me? Mars!"
This audiobook was the second selection in the "Taryn and Elias Summer Road Trip Series." 🙂 The Martian is such a funny and entertaining read. The Martian is hard science fiction novel (i.e. no fantastical elements) about Mark Watney, a sarcastic, slightly immature astronaut who is left for dead on the planet Mars. He wakes up alone and injured on the Red Planet and has to use his scientific knowledge to prolong his chances for survival.
"If a hiker gets lost in the mountains, people will coordinate a search. If a train crashes, people will line up to give blood. If an earthquake levels a city, people all over the world will send emergency supplies. This is so fundamentally human that it's found in every culture without exception. Yes, there are assholes who just don't care, but they're massively outnumbered by the people who do."
The story alternates between Mark Watney's logs, NASA, the Ares 3 crew and an omniscient narrator who you will learn to dread! The book starts out with Mark's logs and I was unsure what all the fuss was about at first, but I was hooked after the first section back at NASA. So if you aren't quite feeling the first few pages, I recommend sticking it out until that point! There are many scientific explanations, but it is not so overly technical or complicated that it is difficult to comprehend. Even when I didn't have a complete grasp on a concept, I was able to understand the main point. At heart, this book is about the will to survive and the deep-rooted need humans have to help others…and the inherent magic of duct tape.
"Yes, of course duct tape works in a near-vacuum. Duct tape works anywhere. Duct tape is magic and should be worshiped."
I really liked the use of the View Spoiler »news media in the book. It is so weird that this man is stranded on Mars and it has become an almost reality show spectacle back on Earth! « Hide Spoiler. Mark remains cheerful and maintains his sarcastic sense of humor during his horrifying ordeal. It is impossible not to root for him! That he was able to maintain his enthusiastically positive outlook during the entire duration of being marooned on a planet 140,000,000 miles from Earth is a little unrealistic, but I was able to convince myself that it was possible to extend his psychological well-being by maintaining a work routine. I did think was starting to show a few signs of cracking. The book has also been criticized for being predictable, but the anticipation of seeing how he overcomes each new problem really keeps the book interesting. It would be interesting to read View Spoiler »how the rest of the Ares 3 mission goes and any lasting effects of the ordeal on Mark and the crew back on earth. « Hide Spoiler When the end audio credits started, I felt as if I had also survived an epic journey!
This book was so perfect for the audiobook format. R.C. Bray was a great choice for Mark Watney's voice and he really was able to bring the other characters to life. Mark's logs are written very conversationally and I think some of his phrasing and humor comes off better with the spoken word. I just pretended that he was recording audio logs. I am really excited to see the movie, because I am many of the pictures in my head were completely inaccurate! Though something in the crew introduction teaser makes me worried that they are going to shoehorn in a romance that wasn't there! Update: The movie was awesome! Great adaptation!
Highly recommended as an entertaining read, especially the audiobook!
"The screen went black before I was out of the airlock. Turns out the "L" in "LCD" stands for "Liquid." I guess it either froze or boiled off. Maybe I'll post a consumer review. "Brought product to surface of Mars. It stopped working. 0/10."
Related Posts