I received this book for free from First to Read in exchange for an honest review. This does not affect my opinion of the book or the content of my review.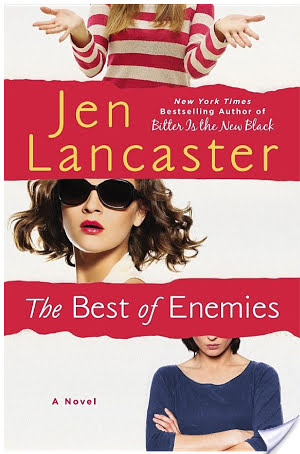 The Best of Enemies

by Jen Lancaster
Published by Penguin on August 4th 2015
Genres: Fiction, Humorous, General, Contemporary Women, Mystery & Detective, Women Sleuths
Pages: 320
Format: Electronic ARC
Source: First to Read
Buy on Amazon
Goodreads


Jack Jordan, a somewhat smug foreign correspondent, shares her best friend Sarabeth with the somewhat shallow stay-at-home supermom Kitty Carricoe. Jack and Kitty have been sworn enemies since a misunderstanding during college and the rivalry has escalated out of control over the last couple of decades. When Sarabeth's husband in involved in a fatal plane crash, Jack and Kitty rush to Sarabeth's side. They become suspicious of the circumstances of the husband's death and team up to investigate.
The chapters alternate between Jack's and Kitty's points of view. The main story takes place in 2014, but there are also lots of flashbacks. Before the story starts there is a series of invitations and hotel letters, which I think was a really fun way to start the book. The Best of Enemies really illustrates the importance of communication and how the littlest misunderstandings and assumptions can drive the biggest wedges between people. All of Kitty's and Jack's drama could have been avoided with a little communication and empathy.
I chose this book because of the comparison to Bridesmaids (which I loved) and Big Little Lies (which I liked). The Best of Enemies is this the deepest I have gone down the chick lit rabbit hole and the book was a little bit of a mismatch for me as a reader. I have to say, this is the first time I have come across the terms "amazeballs," "totes legitamittens," and "faboo" in a book! There is a lot of (tongue-in-cheek) modern lifestyle blogger lingo, texting speak, pop culture references and brand name/celebrity name dropping. I have never seen Top Gun or Risky Business (I know, I know!), so many of the references were lost on me. Those who were teenagers or young adults in the 1980s will probably get the maximum enjoyment from this book.
The alternating chapters technique is really effective for this story, because you get to read Jack's and Kitty's hilariously different interpretations of the same event! My favorite part of the entire book was when Jack and Kitty teamed up. The back and forth of their dialogue was really fun to read. I wished they could have partnered up earlier, because the introductions and set-up seemed to take ages. The first 200 pages seemed so slow and then a lot happened in the last 100 pages.
I think the author did a great job of making Kitty seem really unlikable in the beginning and then slowly making the reader want to be her friend! Jack was an interesting character as well and I really liked her close relationship with her family. All the other characters were a bit one dimensional. There is a lot of fun, snarky dialogue. Sometimes when the subjects got more serious, the dialogue was more stilted (a conversation between Kitty and Bobby discussing raising kids in the internet age and a scene at John-John's house). Things got totes ridic at the end! View Spoiler »I was a little disappointed when Jack reveals that she wants to quit her badass job and decides what she wants more than anything is a husband and a family. It was a weird turn for the character. I wonder if the dynamic between Jack and Kitty would be as interesting in a sequel. The two villainous monologues were a little bit too much for me too. « Hide Spoiler
Even though this was just an okay read for me, I think it will be enjoyable for fans of the genre. I think it would make a really fun movie!
Related Posts