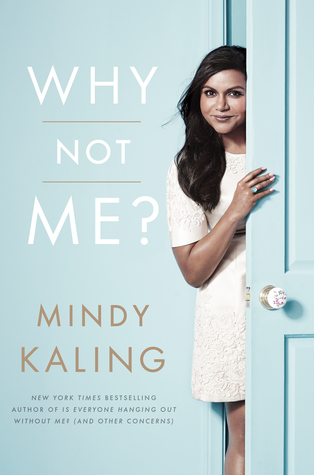 Why Not Me?

by Mindy Kaling
Published by Ebury Publishing on September 17th 2015
Genres: Biography & Autobiography, Personal Memoirs
Pages: 240
Format: Audiobook
Buy on Amazon
Goodreads


"What really knocks me out is a book that when you're all done reading it, you wish the author that wrote it was a terrific friend of yours and you could call him up on the phone whenever you feel like it. That doesn't happen much, though." – Holden Caulfield (pulled from the Soup Snakes essay)
I love Mindy Kaling way too much to be completely objective about her books! Why Not Me? picks up where the first book left off, taking place primarily during the production of The Mindy Project. I really enjoyed listening to this book. I love Mindy's observations and honest insights and I laughed a lot. It is fluffy and entertaining, with a good mix of humor and important life lessons. Mindy realizes she is a role model and includes really sensible advice for young women, especially those in their late teens and twenties. It is more even in tone than Is Everyone Hanging Out Without Me?, which had a few chapters that read like straight biography.
If you're reading this, you're probably a woman. Or perhaps you're a gay man getting a present for your even gayer friend. Maybe you accidentally bought this thinking it was the Malala book. However this book made its way from the "Female Humor/Brave Minority Voices/Stress-free Summer Reads!" Section of your bookstore to your hands, it doesn't matter…If my childhood, teens, and twenties were about wanting people to like me, now I want people to know me.
Why Not Me? is a collection of essays divided in four sections:
For the Ladies – Essays about beauty and friendship ("Try to befriend a cinematographer and have him or her light you wherever you go.")
Take This Job and Love It – Life lessons about success and the ups and downs of working on The Mindy Project. Bad Sport was a favorite in this section.
Love, Dating, and Boys Who Ru(i)n The World – Relationships, most notably Soup Snakes, a touching essay about her "weird as hell" relationship with B.J. Novak.
All the Opinions You Will Ever Need – Confidence and self-acceptance. I loved her Harvard Law School Class Day Speech. There is a section of it which is sort of a love letter to the USA and it is really heartfelt.
• If you believe in yourself and work hard, your dreams will come true.
• Well… I guess the people who work hard whose dreams don't come true don't get to write books about it, so we never really find out what happens to them. So…
• If you believe in yourself and work hard, you have a fighting shot at having your dreams come true.
One of my favorite essays was A Perfect Courtship In My Alternate Life, about an imaginary version of Mindy in an alternate life as a Latin teacher in New York. I wasn't sold at first, but I gradually became more captivated by fake Mindy's fantasy relationship with Sam, a grumpy history teacher. It became one of my favorite essays, because of how down-to-earth and ridiculously detailed her fantasy life was! Perfect romantic comedy in essay form. I also loved One of The President's Men, which was about her relationship with one of President Obama's aides. As someone whose perception of the White House has also been 100% shaped by Aaron Sorkin and a fan of celebrity gossip, I just enjoyed living vicariously through Mindy on that one!
The truth is, if I were going to lose weight successfully, I would have to think about what I eat constantly. I cannot imagine a life more boring and a more time-consuming obsession than being preoccupied with watching what I eat. I mean maybe being in a coma would be more boring, but then at least you're free to dream about all your favorite foods.
Mindy's writing style is conversational, so Why Not Me? is perfect for audiobook. She is the voice narrator and it was great, because it feels like a phone conversation with an extremely successful and hilarious friend. It is a little less than 5 hours long, much shorter than most audiobooks. I did check out the ebook too, because I hate missing out on the pictures! The chapter "A Day in the Life of Mindy Kaling" is really dependent on captioned photographs (and that chapter wasn't in the table of contents for my audiobook, so I am not 100% sure it was there!).
(On the ending of a relationship) Sometimes a story just needs an ending, and I used to not be creative enough person to think of an ending to a romantic story that isn't a wedding or a death. This story didn't end in fireworks, because the truth is, fireworks are something from my twenties. I could have made fireworks, but I chose to make a nuanced memory of a person who is neither a hero nor a villain in my life.
Why Not Me? is a fast and entertaining read (or listen). I'd probably listen to it again if I needed something to cheer me up!
If you've got it, flaunt it. And if you don't got it? Flaunt it. 'Cause what are we even doing here if we're not flaunting it?"

Related Posts