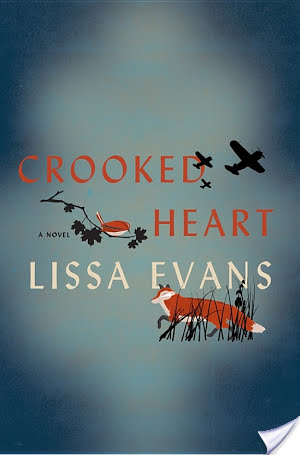 Crooked Heart

by Lissa Evans
Published by HarperCollins on July 28th 2015
Genres: Fiction, Literary, Humorous, Black Humor, Historical
Pages: 288
Format: eBook
Buy on Amazon
Goodreads


'That would be what we'd call a moral dilemma. Is a crime any less wicked because its victims are unaware of its perpetration?'
3.5 stars. Charming, funny little novel. Quick read.
He thought of a wooden puzzle he'd been given for his first Christmas at Mattie's – a street of houses, the façades removable so that you could see cooks in kitchens, children in nurseries, a lady brushing her hair, a gentleman reading a newspaper. It revealed a world of calm and quiet activity, whereas the truth was that you never knew, when you lifted the flap, who you'd find hitting whom, who'd be crying in the corner, who'd be steeling themselves to jump from a window. There were bombs outside, but inside was worse. (Noel)
Crooked Heart takes place during the London Blitz, in the midst of World War II. Orphaned, book-smart Noel Bostock (10-years-old) and his fellow classmates are evacuated from London to escape from the Nazi's sustained bombing campaign. When 36-years-old Vera (Vee) Sedge sees Noel limping along the road, she sees the perfect accessory for her money-making schemes. He is placed in her home and the observant Noel quickly catches on to Vee's gimmicks. She fears he will report her and is shocked when he demands to be let in on the action. Noel and Vee have a difficult start, but they become a great team when they start to understand each other.
She had the familiar sensation of the ground crumbling beneath her, as if she were standing on a sandcastle. It always happened like this: a fresh idea, a few seconds – or even hours – of happy triumph, and then, whoosh, in would come the tide. Next thing she knew, she'd be neck-deep in consequences and drawbacks. (Vee)
This book is more about characters than plot. The plot meanders around. The heart of the story is the relationship that develops between between Vee and Noel. The eccentric characters and the dark comedy keep this book from crossing into overly sentimental territory. This is probably the most light-hearted book I have read that takes place in during WWII! If you liked The Blitz sections of Life after Life or you are in the mood for a cozy little character-driven novel, this one is definitely worth a read.
He was starting on one of his explanations, and she wasn't in the mood for polysyllables. (Vee about Noel)
Love was blind, everyone knew that, but in this case it was also deaf as a post. (Vee referring to son)
Related Posts