This book may be unsuitable for people under 17 years of age due to its use of sexual content, drug and alcohol use, and/or violence.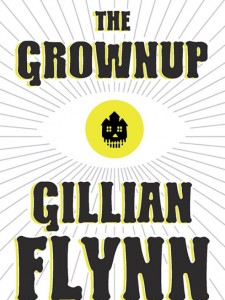 The Grownup

by Gillian Flynn
Published by Crown/Archetype on November 3rd 2015
Genres: Fiction, Thrillers, Suspense, Psychological, General
Pages: 64
Format: eBook
Buy on Amazon
Goodreads


I was so excited when I saw a new release from Gillian Flynn pop up on my feed, until I realized it was an already published (very) short story! It originally appeared as "What Do You Do?" in George R. R. Martin's [book:Rogues|20168816] anthology. Regardless, it is an entertaining and creepy short story, recommended for fans of Gillian Flynn.
I DIDN'T STOP giving hand jobs because I wasn't good at it. I stopped giving hand jobs because I was the best at it.
The narrator performs happy ending massages at Spiritual Palms, a massage and psychic parlor. She is diagnosed with carpal tunnel syndrome and transfers to the psychic part of the business. One day a jittery client named Susan walks in, concerned that her stepson has become threatening and aggressive since they moved into their new home. The narrator was already considering getting into the aura cleansing business, so she offers to perform spiritual cleansings of Susan's home. And then things get real weird!
I would rather be a librarian, but I worry about the job security. Books may be temporary; dicks are forever.
The Grownup is darkly humorous. The unnamed narrator's observations made me laugh. She is exactly the sort of fascinating character you would expect from Gillian Flynn. She is cynical, manipulative and observant. She has an unbalanced mother and an interesting past. My favorite part of this short story was the building of her character, especially in the beginning. The rest of the story is decent too with several twists, but I just wanted more! More story, more about Susan and Miles, more about the house, etc. Almost everything I like most about this author works better in long form.
Despite wanting more from it, I did think it was a really fun, quick read.
But I was either screwed or not screwed, so I chose to believe I wasn't. I had convinced so many people of so many things over my life, but this would be my greatest feat: convincing myself what I was doing was reasonable. Not decent, but reasonable.
Related Posts