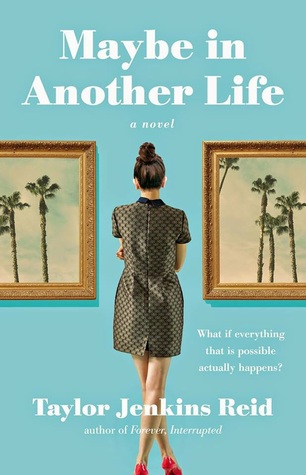 Maybe in Another Life

by Taylor Jenkins Reid
Published by Simon and Schuster on July 7th 2015
Genres: Fiction, Contemporary Women, Family Life, Romance, Contemporary, General, Thrillers, Suspense
Pages: 352
Format: Audiobook
Buy on Amazon
Goodreads


Sometimes I need a sweet little romantic comedy in my life! An adorable and heartwarming story about chance, choices, and fate.
It's sort of absurd, isn't it? How we grab on to facts and consequences looking to blame or exonerate ourselves? … Nine billion choices I've made over the course of my life could have changed where I am right now and where I'm headed. There's no sense focusing on just one. Unless you want to punish yourself.
Twenty-nine-year-old Hannah has absolutely no idea what she wants to do with her life. When she moves back to her hometown of Los Angeles, she has an opportunity to reunite with her high school sweetheart Ethan. After meeting up at a bar, he asks her to go home with him and the plot splits into two different directions; in one life she says yes and in the other life she says no.
We can't say what we would do in other circumstances. We can only know what we will do with the ones we face.
Audiobooks usually take me a little longer to settle into than print books, but this one won me over immediately. Julia Whelan has an easy, conversational tone. I would probably listen to any of the books she reads, solely because she is reading them! It was not confusing to keep up with two timelines, even via audio. A traumatic event that happens in one of the lives made it easy to stay on track. I didn't think the story was too repetitive. It was interesting to see how analogous events and attitudes manifested in each timeline. For instance, in one timeline Hannah states she could not handle a certain event but in the other timeline she is clearly able to handle it. The only part that was a direct repeat, with slight variations, was the final section.
For some reason, I think I'll feel better if things are meant to be. It gets me off the hook, doesn't it? If things are meant to be, it means I don't have to worry so much about consequences and mistakes. I can take my hands off the wheel. Believing in fate is like living on cruise control.
Hannah reminded me so much of my little sister: the traveling, the anxieties, and the crazy indecisiveness. It is probably why I liked her so much! I also loved Hannah's best friend Gabby. When Hannah is getting settled in LA, she stays with Gabby. My favorite part of the book was Hannah and Gabby's friendship! They are officially on my "Favorite Fictional Friendships" list, along with Leslie Knope & Ann Perkins and Meredith Gray & Christina Yang. They had such an easy rapport! I could relate to Gabby's habit of injecting political correctness into routine conversation. I start to feel that pull when I feel like I am trapped in an echo chamber! (Texas ;D) I loved how Gabby's family became a second family to Hannah. They were so supportive and loving towards her!
I was initially worried that Gabby would be relegated to the role of supportive best friend, but she has her own problems that she needs help with. One thing I really liked about the characters was that even when they did something impulsive or felt irrational, they were mature enough to reflect on their actions, make connections, and realize when they were wrong. Gabby's problems help Hannah realize how her own actions have affected people.
It doesn't matter if we don't mean to do the things we do. It doesn't matter if it was an accident or a mistake. It doesn't even matter if we think this is all up to fate. Because regardless of our destiny, we still have to answer for our actions. We make choices, big and small, every day of our lives, and those choices have consequences. We have to face those consequences head-on, for better or worse. We don't get to erase them just by saying we didn't mean to. Fate or not, our lives are still the results of our choices. I'm starting to think that when we don't own them, we don't own ourselves.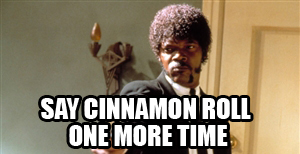 The only things that got annoying were the two things everyone thinks of when they think of Hannah: cinnamon rolls and her hair in a high bun. Those quirks quickly went from cute to mildly irritating. It got to the point where I started picturing the Samuel L. Jackson meme in my head during each mention! I don't think it is possible to do an exhaustive search on Google Books, but on the pages available I counted 45 mentions of the word "cinnamon" and 19 mentions of "bun."
"That's your problem. You're trying too hard to find the perfect answer when an answer will do … You don't need to find the perfect thing all the time. Just find one that works and go with it."[Henry]
In Maybe in Another Life, a good life isn't dependent on one right decision. There is more than one path to a happy and fulfilling life. I really enjoyed this audiobook and I am seriously considering buying a print copy, so I can force my sister to read it. The library's waiting list is far too long and I need her to read it now!
I wake up most mornings feeling refreshed and well rested, with an excitement about the day. And as long as you can say that, I think you're doing OK.
I've been listening to Aziz Ansari's book Modern Romance which has been an unexpected complement with this one, along the lines of infinite choices and "you don't need THE answer, you just need AN answer." Also, Kindle version of Taylor Jenkins Reid's After I Do is available for $1.99 during the month of April 2016!
Related Posts