I received this book for free from NetGalley in exchange for an honest review. This does not affect my opinion of the book or the content of my review.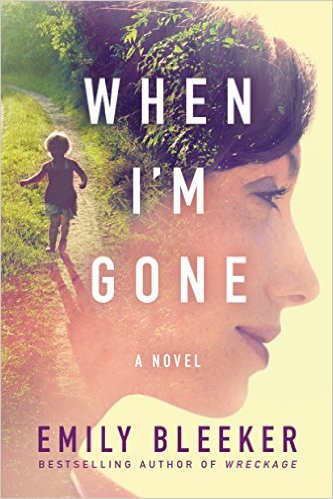 When I'm Gone

by Emily Bleeker
Published by Amazon Publishing on March 15th 2016
Genres: Fiction, Thrillers, Suspense, Contemporary Women, Family Life
Pages: 355
Format: eBook
Source: NetGalley
Buy on Amazon
Goodreads


Melodramatic at parts, but it has a lot of heart. It is a story about a family working through grief, centered around a mystery. I had a hard time putting it down!
Natalie Richardson passed away after a year-long battle with cancer and her husband Luke is now faced with the daunting task of raising their three children alone while they all deal with immense grief. When Luke returns home from her funeral, there is a letter on the floor…from Natalie! It was written on the first day of her cancer treatment. The letters keep coming throughout the year and become a great source of comfort for Luke. But as time goes on, the contents of the letters and the mystery of who is sending them make Luke question the entire life he and Natalie built together.
It always amazed him how something that is broken on the inside can look so perfect on the outside..
I chose this book from the 'Read Now' section at NetGalley. When I was in high school, one of my parents had cancer. (They are okay now!) Years later, I discovered a set of letters that had been written during their illness and were addressed to me and my three siblings. I did not read them because it felt too intrusive. They would have been too difficult to read even if I were feeling especially nosy! That experience made me interested in the concept behind this book.
First sentence: It was a beautiful funeral. How could it not be? Natalie planned the whole thing, and she always had a knack for entertaining.
This book had me from the opening line! I adored the Richardson family and they were written so authentically. Luke's grief felt real. He struggles with the bitterness of losing his soulmate so young and he doesn't know how he will ever move forward. He doesn't believe in an afterlife and that makes for some interesting conversations because he is unable to provide the kind of comfort that he knows everyone around him needs. Natalie's letters to Luke are so heartbreaking, especially the ones dealing with her hopes and fears after her diagnosis. Even though we only get to know Natalie through her letters and those she left behind, I got a full sense of her as a person.
The story did go from a standard grief story to full out DRAMA in the last 15%. Everyone had a dramatic problem that was revealed in a very dramatic way. This is not a complaint! It was all very juicy and I couldn't stop turning the pages. The part of me that loved soap operas and Lifetime movies couldn't get enough of it!
Part of the heaviness holding him down came from all the reminders of Natalie. Yet that ache wasn't as profound as he'd feared it would be, almost as though he was adjusting to the pain, like when your eyes adapt in a darkened room. Underneath this understandable sadness was a simmering anger.
I do have a personal bias against stories where the dead spouse's best friend and widower develop feelings for each other and/or where the dead spouse orchestrates their partner's romantic future. It creeps me out and I probably wouldn't have picked this book if that had been mentioned in the summary! I was far more interested in the mystery behind the letters than the growing romantic tension between Luke and Natalie's best friend Annie, no matter how much the children viewed her as a second mom. (#TeamFelicity! 😉 ). A relationship between them felt weird, especially with how codependent they were with dead Natalie. View Spoiler » ("I really don't think you're ready for something outside of Natalie's shadow. For now, that's Annie.") However, I was happy with how that story thread was tied up, especially considering Annie's circumstances. « Hide Spoiler
It was like his world was swirling around one spot lately, and he wasn't sure if it was the gentle tug of gravity or the dangerous currents of a whirlpool. The only thing he was sure of was who was at the center of that spiral..
I feel like a terrible person saying this, even about a fictional character, but I wasn't a huge fan of Natalie. She is Type A to an extreme! My opinion of her started to turn during the incident at the college. The women's treatment of Natalie was absolutely despicable, but Natalie's controlling and moralistic behavior that preceded the incident made me view her differently. Suddenly, her hold over all the adults in the story seemed a tad over-the-top and a bit crazy. Doling out suspense to her mourning husband via strategically scheduled letters seemed unnecessarily cruel.
This is a little nit-picky, but I get distracted by overly specific outfit descriptions. ("dressed up in a black pantsuit with a dark-blue silk blouse that matched the water in Lake Michigan.) This story isn't written in first-person but it is very much from Luke's perspective and I didn't believe those details would be important to him. The outfit descriptions were especially noticeable when Annie or Jessie, the nanny hand-picked by Natalie, entered a scene. I did think it was adorable when Jessie's love of Broadway was revealed in ways other than clothing choice, such as singing with the middle Richardson child while doing chores.
Then Luke found himself saying the sentence he'd heard more times than he could count. Perhaps the least helpful sentence he'd ever heard. "If there is anything I can do to help, please, let me know." When Natalie's school acquaintances or the administrative assistant at work said those words, they always sounded empty, like a halfhearted attempt to care. Now he knew—it's what you say when there's nothing you can do to help besides want to.
This book was just the kind of juicy page-turner I needed at the time. I raced through this book, so I really enjoyed Bleeker's storytelling ability! I especially enjoyed the parts dealing with grief, the cancer diagnosis and Natalie's secret. If you liked A Small Indiscretion or The Day We Met, you will probably like this book. The stories are different, but they all have a similar 'feel.'
"It's the end that marks a beginning, not the first day."
Related Posts