I received this book for free from NetGalley in exchange for an honest review. This does not affect my opinion of the book or the content of my review.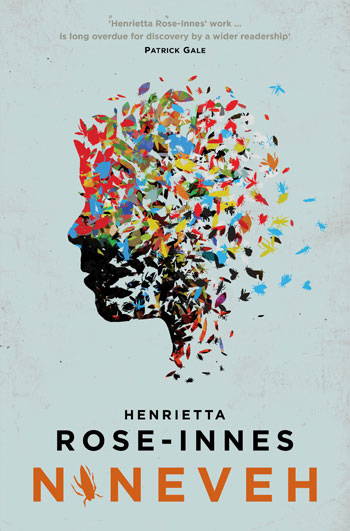 Nineveh

by Henrietta Rose-Innes
Published by Aardvark Bureau on November 15th 2016
Pages: 238
Format: Electronic ARC
Source: NetGalley
Buy on Amazon
Goodreads


Katya Grubbs is the owner of Painless Pest Relocations, a humane pest control company. A successful pest removal at the home of property developer Martin Brand earns her the opportunity to tackle the pest problems at Nineveh, Brand's residential sanctuary for the wealthy in the middle of bustling Cape Town, South Africa. The mysterious "gogga" has invaded the gated paradise, making it uninhabitable. The job is more challenging than expected because there are no obvious signs of an infestation. As Katya searches for any clue related to the hidden bug problem, she also has to address the past that she's attempted to distance herself from.
Caterpillars, like migrating wildebeest – very slow, small ones – have a strong herding impulse. They sense a stirring, they start to push. Perhaps they feel some dim invertebrate anxiety: that the swarm has not yet been consummated, that this is not the right tree, that a better tree awaits, that they will be left behind. This is as far as her study of caterpillar psychology goes.
Katya is a complex and irritable character. She got her start in the pest control industry by working for her father's extermination business, but they are now estranged. She eschews attachments and hates change. Her relationship with her sister Alma is difficult because of their unconventional childhood. Their undependable, dishonest father never gave them the opportunity to put roots down anywhere and both sisters are marked with scars from the past. The sisters live completely opposite lives as adults. Alma has settled down into a manicured community with her perfect family, while Katya lives alone in controlled chaos. It's in her family where Katya begins to search for signs of her father escaping his boundaries, as she seeks hints of the Grubbs' bloodline in their features.
[Katya looking through a book that compares old photos of Cape Town to how it looks now:] "Each person snapping the shutter had been trying to fix the city as it was, but there is no fixing such a shifting, restless thing as a discontented city. If you strung these pictures together in a giant flip-book, or put them together to make a jerky film reel, year on year, the city would be hopping and jiggling, twitching and convulsing in a frenzy of urban ants-in-the-pants. Colonial cities are itchier than most, no doubt, fidgeting in the sub-Saharan light; harsh, even in a sepia world.
Katya's living space seems to be falling apart around her, in large part because of a new development being constructed across the street. The job at Nineveh requires Katya to stay on the premises and she is immediately attracted to the sterile and controlled environment. She feels as if "these volumes of coolly defined space" were "dreamed up out of her own cluttered mind." But as a pest control expert, she knows there is always something lurking under the surface. Despite the aggressive attempts to create a gated-off haven in Nineveh, the outside world keeps creeping in. Katya begins to pay attention to the many different worlds that exist on top of each other in South Africa. Her experience at Nineveh also causes her to reassess instances of childhood neglect that she had always viewed as accidents. She realizes the world in in a constant state of flux and questions the futility of keeping everything in its proper place. She begins to accept the inevitability of change and stops forcing herself fit into a specific mold.
She likes to put distance between herself and her father. It's necessary, she thinks, for both of them. She is like a ball of string unravelling, always connected, but lighter the further she goes.
This short book will be interesting for anyone who likes strange, character-driven stories with atmospheric settings that are an integral part of the story. The descriptions of nature and architecture give us insight into Katya's state of mind. Her family issues, professional struggles, personal growth, and the world around her are all intertwined. I usually prefer more human interaction, so the abundance of descriptive settings and inner reflection were sometimes a little too much for me. A scene at the end was so descriptive and almost unreal that I lost my ability to visualize. Even so, I loved the strangeness and the complexity of Katya's story. The author is brilliant! All the interwoven layers would reward a reread and a discussion. This isn't science fiction, but I think fans of Lauren Beukes (Slipping) and Helen Phillips will appreciate the uniqueness of this author's work.
Everything's in motion, changed and changing. There is no way to keep the shape of things. One house falls, another rises. Throw a worn brick away and someone downstream will pick it up and lay it next to others in a new course in a new wall – which sooner or later will fall into ruin, giving the spiders a place to anchor their own silken architecture. Even human skin, Katya has read, is porous and infested, every second letting microscopic creatures in and out. Our own bodies are menageries. Short of total sterility, there is no controlling it.
Related Posts