I received this book for free from NetGalley in exchange for an honest review. This does not affect my opinion of the book or the content of my review.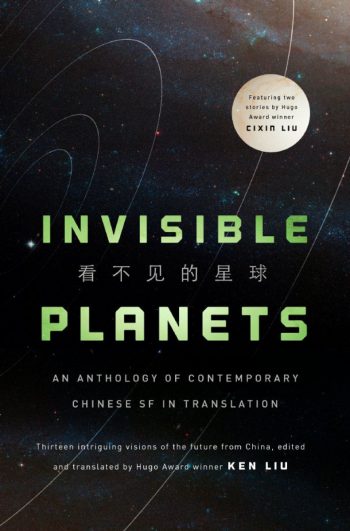 Invisible Planets

by Ken Liu
Published by Macmillan on November 1st 2016
Genres: Fiction, Science Fiction, Collections & Anthologies
Pages: 288
Format: Electronic ARC
Source: NetGalley
Buy on Amazon
Goodreads


Expertly curated anthology of short speculative fiction by Chinese writers.
I've really enjoyed reading short science fiction lately and Invisible Planets is a fantastic addition to my collection! It features thirteen short stories from seven Chinese writers, collected and translated by writer Ken Liu. Liu is upfront about the book's limitations and he cautions the reader to not draw any broad conclusions from the selections. He selected works that were most accessible to a wide audience. Liu urges Western readers to abandon their preconceived notions of China and remember these writers are "saying something about the globe, about all of humanity, not just China." I assume a greater knowledge of Chinese history, culture, and anxieties would add an extra layer of nuance to many of the stories, but the themes are resoundingly universal. One thing I love about science fiction is that it takes modern-day anxieties and pushes them to the next level. Sometimes it's easier to see clearly when you're looking at another world.
[We are] only pawns, stones, worthless counters in the Great Game. All we can see is just the few grids of the board before us. All we can do is just follow the gridlines in accordance with the rules of the game: Cannon on eighth file to fifth file; Horse on second file to third file. As for the meaning behind these moves, and when the great hand that hangs over us will plunge down to pluck one of us off, nobody knows. But when the two players in the game, the two sides, have concluded their business, all sacrifices become justified. (The Year of the Rat)
The short stories featured are diverse, ranging from surreal fantasies to hard sci-fi. One is even written like a fairy tale (Grave of the Fireflies). In a collection with such a variety of styles, it's going to be difficult for each story to appeal to every reader. I didn't enjoy the surreal stories (A Hundred Ghosts Parade Tonight or Call Girl) as much as the more traditional selections, but I could still appreciate the skill of the writer. While the stories are all very different, a few themes popped up more than once: government manipulations, corporate exploitation of workers, social class divisions, aging populations, and the impact of storytelling. Most of the stories take place Earth. The last section includes three essays about Chinese science fiction that serve as historical context and a starting point for analysis.
My favorites:
• The Year of the Rat by Chen Quifan – Programmed rats have become an important export, but everything goes horribly awry when the rats escape their farms. College students who can't find jobs are enlisted in a war against these genetically modified creatures. Some begin to question their duties when they see that the rats have developed signs of intelligence. Not everything is as it seems: "The truth is ever elusive." If you like this one, you might also enjoy The Green and Unaccounted by Lauren Beukes or the Men Against Fire episode of Black Mirror.
• Tongtong's Summer by Xia Jia – This was the most emotionally affecting one for me! Tongtong's grandfather moves in with her family after an injury, but he is not the grandfather Tongtong remembers. He's depressed about losing his independence and lonely from isolation. Tongtong's family buys a robot caretaker and eventually the technology is harnessed so that those that are homebound can actively participate in society. My favorite part of this story was Tongtongs's sweet relationship with her grandfather and her evolving understanding of the aging process. Xia Jia dedicates this short story to her own grandfather in a touching author's note. If you like this story about the positive aspects of technology, you might also enjoy the short story Saying Goodbye to Wang by Alexander Weinstein.
• The City Of Silence by Ma Boyong – This one takes Orwell's 1984 to a modern level: "The author of 1984 predicted the progress of totalitarianism, but could not predict the progress of technology." In this oppressive society, the citizens are constantly pushing the boundaries of language and the government's surveillance technology is always improving. The constant battle between the opposing groups is causing the list of "healthy words" to shrink to the point where communication is becoming impossible. Arvardan is exhausted with his monotonous life. He requests access to the BBS forums in hopes of freer communication, but the online situation is even worse. He begins searching for clues of other's discontent and the journey leads him in unexpected directions.
The real key isn't about whether what I say is true, but whether you believe it. From start to end, the direction of narrative is not guided by the tongue, but by the ear. (Invisible Planets)
• Invisible Planets by Hao Jingfang – The narrator describe their travels to far-flung planets across the vast universe and the diverse alien cultures they encountered. Are the narrator's stories true? Does it matter if they are? Even though these alien civilizations seemed strange on the surface, I was reminded of the many different people who make up human civilization. My favorite society was Amiyachi and the Aihuowu, who "live on the same planet but belong to entirely separate worlds." Both cultures are unable to see the other one as intelligent beings because they're only able to contextualize the other within the framework of their own experiences.
When I am done telling you these stories, when you're done listening to these stories, I am no longer I, and you are no longer you. In this afternoon we briefly merged into one. After this, you will always carry a bit of me, and I will always carry a bit of you, even if we both forget this conversation. (Invisible Planets)
• Folding Beijing by Hao Jingfang (Winner at the 2016 Hugo Awards for Best Novelette) – A fascinating story about a father's love and economic inequality. Beijing is a complex folding city, with a portion of the city always hidden underground. There are three separate spaces divided by social class. The space a citizen lives in determines the amount of time they have to live their lives; First Space gets 24 hours, while the more densely populated Second Space and Third Space get twelve hours each. A Third Space waste worker decides to go on a dangerous and illegal journey across the other two areas, in order to earn money for his daughter to attend a decent school. Will he be able to complete his task while escaping detection?
Pretending that the fake is real only makes the real seem fake. (A Hundred Ghosts Parade Tonight)
• Taking Care of God by Liu Cixin– Three years ago, 21,530 spaceships descended to Earth. Millions of elderly people appeared in cities around the world, all repeating the same phrase: "We are God. Please, considering that we created the world, would you give us a bit of food?" Earth's citizens were initially happy to help their creators, but the resentment builds as the Gods become seen as burdens on their new families. Why have the Gods come back to Earth?
Time flows like a river, halting for no one. There's nothing in this world that can outlast time itself. (Night Journey of the Dragon-Horse)*
Invisible Planets is a great introduction to contemporary Chinese science fiction and I'm grateful to Ken Liu for translating these fantastic stories. This book exposed me to many writers that I wouldn't have been able to read otherwise.
So what's next on my reading list for when I'm in a science fiction mood? I've added translator Ken Liu's collection The Paper Menagerie and Other Stories to my list. I recently saw the movie Arrival, which is based on the short story Story of Your Life by Ted Chiang. I couldn't help but think of this collection as I watched it, especially Taking Care of God. Chiang's short story collection Stories of Your Life is on my priority to-read list now. For more collections of short science fiction, you might also like Children of the New World by Alexander Weinstein, Slipping by Lauren Beukes, and Some Possible Solutions by Helen Phillips.
*Check out this video of dragon-horse in action! Such a magnificent machine!
Related Posts