I received this book for free from NetGalley in exchange for an honest review. This does not affect my opinion of the book or the content of my review.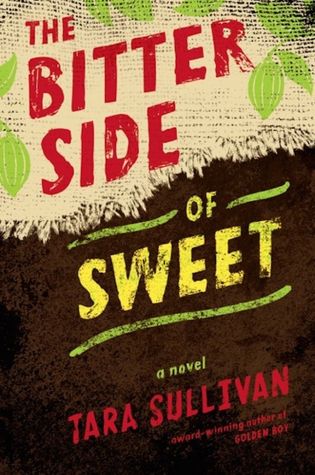 The Bitter Side of Sweet

by Tara Sullivan
Published by Penguin on February 23rd 2016
Genres: Young Adult Fiction, People & Places, Africa, General, Social Themes, Violence
Pages: 320
Format: Electronic ARC
Source: NetGalley
Buy on Amazon
Goodreads


Fast-paced and engaging story about the dark side of the chocolate industry. For 12 & up.
I don't count how many trees we pass because I don't count the things that don't matter. I don't count unripe pods. I don't count how many times I've been hit for being under quota. I don't count how many days it's been since I've given up hope of going home.
Two years ago, Amadou (15) and his brother Seydou (8) left their home in Mali to find a seasonal job and earn money for their family. Instead, they were brought to the Ivory Coast and sold into slavery on a cacao farm. The work is dangerous and the children are beaten and starved if they don't meet the undefined quota. The bosses promise they can return home when they pay off their debt, but Amadou has never seen anyone being released from duty. One day, a girl is brought to the camp. Khadija (13) is defiant and determined to escape. Amadou had lost all hope of ever going home, but her willful spirit makes him start thinking about the outside world again. When Seydou's life comes under threat, Amadou sees no other choice but to attempt an escape.
"A lot of bad things happened to us . . . Just because you were there when they happened doesn't mean they're your fault."
The story is told from Amadou's perspective. Amadou feels guilty about bringing his beloved brother into this horrific situation. He's done everything he can to protect Seydou, but he's beginning to feel resentful. His brother is young and doesn't fully understand the consequences of his actions. The farm bosses know Seydou is Amadou's weak spot and they exploit that weakness when they can. Seydou wants to be treated more like an equal than a baby brother. He's frustrated that Amadou doesn't see him as capable.
A girl has never been brought to the farm before and all the boys at the farm are fascinated when Khadija arrives. Khadija is different from the girls in Amadou's village. He assumes her family must be wealthy because she's well-fed and educated. He wonders how she ended up at the farm, but she isn't ready to tell her story. Khadija's defiance makes his life difficult, but they have no choice but to work together as their situation grows worse.
It hurts too much to think that, after all this work, there may be some journeys that you just never come all the way home from.
While this book isn't extremely graphic, there is disturbing content: beatings, descriptions of bodily injury, starvation, and rape (Chapter 6, the description of what Amadou is witnessing is vague). The journey these kids embark on is terrifying. They have little food or money. They have no means of communication, so help is not just a phone call away. No one can be trusted and they have to worry about encountering wild animals. They have to come up with creative solutions to get out of terrible situations. Their survival didn't feel guaranteed at any point. Amadou has to make some very adult decisions by the end. The anxiety I felt for these characters was real. I could not stop turning the pages, yet I was also scared of what these kids would come across next.
There were a few aspects that took me out of the story. Amadou's voice didn't always feel authentic, they get lucky too many times, and it was a bit preachy in the end. There are a few flashbacks, but I wanted to learn even more about Amadou and Seydou's life back in Mali. However, the author was successful in creating an engaging story with memorable characters that educates younger audiences about the human cost of chocolate. The author's note at the end speaks about the reality of the situation and includes a list of small actions kids can perform to make a difference. Throughout the book, the characters occasionally use common phrases from their own language and there's a glossary at the end. Most of the time it was easy to understand from context.
There are thousands of kids like us, working across the country to make a sweet for rich kids in other places. Thousands. It's a number that matters so much I can't wrap my mind around it.
This book sheds light on the industry practices that bring us our cheap sweets. The major chocolate companies distance themselves from the actions of the farmers, even though low compensation and lack of oversight contribute to the situation. While there are laws against child labor in many countries, over 150 million children around the world live and work without those safeguards. The Bitter Side of Sweet is a reminder of the importance of being an informed consumer. It shows how our dollars may be indirectly funding things that go against our values and actively harming our fellow man. As Sullivan writes in her author's note, "chocolate companies cannot exist without consumer demand."
Relevant Links:
A six-minute video that shows cacao farmers taste chocolate for the first time and also shows some of the harvesting process:
https://www.youtube.com/watch?v=zEN4hcZutO0
The Dark Side of Chocolate – 2010 documentary recommended by the author
List of Ethical Chocolate Companies
Chocolate: the industry's hidden truth (and the easy stuff we can do to still enjoy it) – This writer suggests looking for chocolate that has a short supply chain and/or purchasing chocolate that is produced in Central America and South America.
Related Posts