I received this book for free from NetGalley in exchange for an honest review. This does not affect my opinion of the book or the content of my review.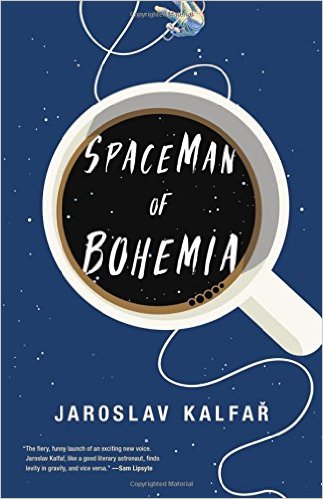 Spaceman of Bohemia

by Jaroslav Kalfar
on March 7th 2017
Genres: Fiction, Literary, Absurdist, Science Fiction, General, Action & Adventure, Cultural Heritage, Family Life, Alien Contact, Visionary & Metaphysical
Pages: 288
Format: Electronic ARC
Source: NetGalley
Buy on Amazon
Goodreads


Existence runs on energy, a fluid movement forward, yet we never stop seeking the point of origin, the Big Bang that set us upon our inevitable course.
Jakub Procházka, the first Czech in space, is sent on a solo mission to collect dust from the mysterious Chopra cloud. The long journey through the cosmos gives him plenty of time to ponder the state of his marriage. His wife Lenka is getting increasingly distant during their chats. One day, Lenka goes into hiding and doesn't show up for their weekly call. Devastated by her disappearance, he sinks into a deep depression. That's when a Nutella-loving alien spider appears. Jakub names him Hanuš, after a Czech clockmaster. Is Hanuš real or a figment of his imagination, perhaps a "personification of [his] fears"? Jakub's conversations with Hanuš help him assess his life and determine what drove him to this point. Can this expedition into the unknown help him overcome his father's sins? Will he survive the dangerous journey and return home? Even if he finds his way back to Earth, will Lenka remain permanently out of reach?
Wasn't all life a form of phantom being, given its involuntary origin in the womb? No one could guarantee a happy life, a safe life, a life free of violations, external or eternal. Yet we exited birth canals at unsustainable speeds, eager to live, floating away to Mars at the mercy of Spartan technology or living simpler lives on Earth at the mercy of chance. We lived regardless of who observed us, who recorded us, who cared where we went.
Spaceman of Bohemia is a mix of science, history, politics and philosophy. Sometimes I saw shades of Kurt Vonnegut (Hanuš) and Anthony Marra (Jakub's childhood). The story takes a messier path than I usually prefer, but it actually worked for me here. It fits with the way Hanuš interacts with Jakub's memories and mirrors the tangled web of human history. Jakub's journey shifts halfway through. I preferred the first half. There was less room for humor in the second half. I also missed some of the characters from the beginning! The writing was always gorgeous, but sometimes too ornate for me. I'd get lost in a sentence and have to start over or I'd lose sight of Jakub during the philosophical ruminations. I started to see the author's hand in the second half, but it was still a pleasure to read.
"You know that the world is always trying to take us. This country, that country. We can't fight the whole world, the ten million of us, so we pick the people we think should be punished, and we make them suffer the best we can. In one book, your father is a hero. In another book, he is a monster. The men who don't have books written about them have it easier."
Czechoslovakia's Velvet Revolution, the bloodless overthrow of the authoritarian Communist government in 1989, marks a turning point in Jakub's life. Jakub's father was a member of the secret police; he informed on his neighbors and participated in torture. Once the Communists lose power, the man who was feared becomes a target. After his death, Jakub and his grandparents face the full brunt of the community's resentment. Jakub considers himself "the biological carrier of [his] father's curse." Every step he takes is intended to overcome his father's mistakes. Are our parents' flaws embedded in our DNA, destining us to repeat their mistakes? One character notices that Jakub and his father share the same "terminal decision to serve." Would Jakub's father have always been attracted to brutality, or could his worst impulses be harnessed for good in the right conditions? Is Jakub proof that his father's actions were borne out of circumstance?
"Love could turn us all into war criminals."
One of Jakub's biggest fears is being a "nobody." It's part of why he's so intent on having children. Jakub sees firsthand how the things that drive us can also destroy us. As good as Jakub tries to be, he isn't perfect. He's willing to trample over other people to survive (and I can't say I blamed him!). He imagines a man tortured for selfish means. He even has Lenka followed, despite feeling guilty about it. Jakub was completely blindsided by Lenka's disappearance. His travels caused some strain on their relationship, but he thought that their love was enough to hold them together. He was too caught up in his own goals to notice that his marriage might not be going as well as he thought. "People become abstractions. And the things weighing on you become clear. That's why people are so afraid to be away from each other, I think. The truth begins to creep in." The physical distance between Jakub and Lenka deepens cracks in a marriage already on a shaky foundation. How could he have been so distant from the person he thought he was closest to? How could he have been so unaware of what was going on right in front of him? 
It was exhilarating, all of it—was existence alone not revolution? Our efforts to establish routines in the nature that forbade them, to understand depths we could never reach, to declare truths even as we collectively snicker at the word's virginal piousness. What a mess of contradictions the gods created when they graced us with self-awareness.
Why are we here? Is a life made most meaningful by a person's achievements or the intimate relationships they make along the way? Who has it better in life: those who live simple lives or those whose names are still uttered because of their contributions to society? Is living a quiet life enough? Jakub expresses wonderment at humanity's unstoppable march forward. When he looks at Old Town Square in Prague, he sees all of its iterations through the decades: the things that change for the good, the things that change for the worse, and the things that only change on the surface. Life is messy, but alway moving. He feels an overwhelming love of humanity and a sense of pride to be a part of it all. He sees the value in people who propel us forward without any thought to self-preservation, but also in those who keep moving forward with their day-to-day lives despite everything going around them. As driven as Jakub was to explore the unknowns of space, he realizes there are many mysteries to explore on the Earth too. In a way, we are all exploring the unknown, feeling our way through the dark.
How unlikely. Yet here we are.
Isolation makes Jakub see what he values and what he really wants out of his life. Will Jakub get a second chance to live for himself? He'll have to confront many uncomfortable truths first. Like with many of these stories packed with lots of big ideas, I'm not confident that I absorbed everything. It was a messy, beautiful journey, very much like life.
---
Another quote that struck me, but I couldn't work it into my review:
The greatness of a nation is in its symbols, its gestures, in doing things that are unprecedented. It's why the Americans are falling behind—they built a nation on the idea of doing new things, and now they'd rather sit and pray that the world won't make them adapt too much.
Related Posts