I received this book for free from NetGalley in exchange for an honest review. This does not affect my opinion of the book or the content of my review.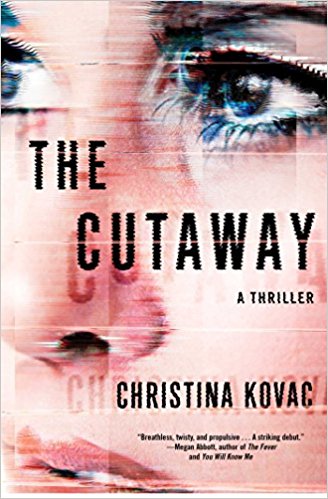 The Cutaway

by Christina Kovac
Published by Simon and Schuster on March 21st 2017
Genres: Fiction, Literary, Thrillers, Suspense, Contemporary Women
Pages: 320
Format: Electronic ARC
Source: NetGalley
Buy on Amazon
Goodreads


In Washington D.C., beautiful young attorney Evelyn Carney goes missing. She ran out of a restaurant after an argument with her husband and seemed to disappear into thin air soon after. Virginia Knightly, an executive producer at a news station, notices the city's Criminal Investigations Division latched on to the case immediately, even though there's no evidence of a crime. There has to be more to the story and she's determined to get the exclusive.
Virginia's struggling news station is desperate to get ratings up. Anxiety fills the newsroom, as the office buzzes with gossip of imminent layoffs. Nobody's job is safe and newsroom rivalries flare. If Virginia can get the exclusive in the Carney story, maybe she can do right by Evelyn and save her coworker's jobs. She becomes fixated on Evelyn's disappearance. She's certain she recognizes Evelyn from a news clip, but she can't pinpoint the exact story. Virginia races around the city attending press conferences, finding credible sources, and verifying information. Officials are tight-lipped and there's always the possibility information is only given to manipulate the reporting.
"You know that inscription on the pretty white building on First Street?" He was talking about the United States Supreme Court. On its facade it was written: Equal Justice Under Law.
"I've read it."
"A beautiful dream, isn't it?" he said mournfully. "But nowhere close to reality. Know what's worse? Nobody cares."
Washington D.C. makes such a fascinating setting for a mystery. The Capitol dome looms dramatically in the background. There's an underlying sense that some people are expendable to keep corrupt systems from being scrutinized. The bustling U.S. capitol city feels so small and claustrophobic. Everyone's lives are intertwined. The "tribal" nature of those who work in and with the government make it difficult to get to the heart of a story. Through Virginia's eyes we see the rampant sexism towards female journalists, both in and out of the industry. Just the rumor of an improper relationship can sink a career. Virginia also has some uncomfortable interactions with police officers. While investigating Carney's case, she runs into prejudice against women who are victims of crimes. A victim's past history can keep the police from taking a case seriously.
Virginia's personal life was less compelling to me. Her entire life is built around her career. She keeps people at a distance because she's always waiting for them to deceive her. She feels guilty for something she wished as a child, even though she wasn't able to act on it. There's a subplot that deals with her family history, but it didn't feel fully integrated. She repeatedly asks herself why she is so obsessed with Evelyn's case and I kept trying to connect it to her past. I did to some extent, but it didn't totally link up for me. Her own analysis of her fixation was what I would've expected any journalist to say. I also felt like I was missing something with her relationship with the charming news anchor Ben. There's obviously some history there, but it also came across as uncharted territory.
"If you're good at what you do, no one can steal it from you, and you'll carry your skill wherever you go. Being good at what you do is the closest thing to freedom a woman can find."
The Cutaway is an entertaining mystery, especially for those interested in the journalistic process. Where's Evelyn? Did she get mixed up in something that she couldn't handle in her career or her personal life? Will Virginia break the story before anyone else gets the chance? The author's seventeen-year history in newsroom added so much weight to Virginia's experiences out in the field. I really enjoyed reading a woman's perspective. I'd love to read Kovac's memoir!
Related Posts