I received this book for free from NetGalley in exchange for an honest review. This does not affect my opinion of the book or the content of my review.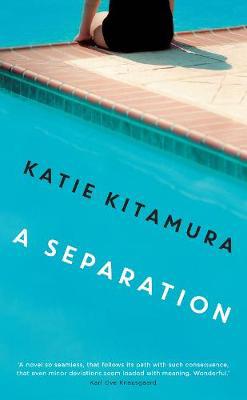 A Separation

by Katie Kitamura
Published by Penguin on February 7th 2017
Genres: Fiction, Literary, Psychological, Family Life
Pages: 240
Format: eBook
Source: NetGalley
Buy on Amazon
Goodreads


Between two people, there will always be room for failures of imagination.
The narrator receives an urgent call from her mother-in-law, wanting to know why her son Christopher isn't answering her calls during his travels in Greece. The narrator and her unfaithful husband have been separated for six months, but they've decided to keep it a secret for now. Rather than admit they've separated and that she isn't privy to her soon-to-be ex-husband's travels, the narrator agrees to travel to Greece and find him. The secret separation has complicated the narrator's life by causing her past and present to coexist. She intends to ask for a divorce when she finds him, but only his belongings are at the hotel. She decides to stay in Greece until he returns. The secret separation puts the narrator in a difficult spot and she considers dropping the pretense that they are still together.
As my life with Christopher began to recede into the past, everything that I learned about him—a meaningless detail from his new life, a revelation from his past one—was a source of potential discomfort, causing a pang of greater or lesser pain, or even occasional indifference. This was the process by which two lives were disentangled, eventually the dread and discomfort would fade and be replaced by unbroken indifference, I would see him in the street by chance, and it would be like seeing an old photograph of yourself: you recognize the image but are unable to remember quite what it was to be that person.
I liked A Separation, but I might've liked it more if it were part of someone's memoir. I was underwhelmed by the story, even though I knew to expect more of a character piece than a suspenseful mystery. There was such an eerie, tense atmosphere, that I was unsatisfied when it was simply ruminations on marriage and the end of a relationship. The story is slow-moving and introspective. The narrator is well-educated and reserved, which made her feel distant. The writing is beautiful and insightful, but the style may be bothersome to some readers. There aren't any quotation marks to differentiate dialogue, but the conversations are in short bursts. The biggest impediment to my reading comfort were the sentences within sentences. Em dashes everywhere!
The past is subject to all kinds of revision, it is hardly a stable field, and every alteration in the past dictates an alteration in the future. Even a change in our conception of the past can result in a different future, different to the one we planned.
The narrator travels from her home in London to the small fishing village of Gerolimenas, Greece. There's an ominous feeling in the air. It's the offseason and the area was recently ravaged by wildfires, so there aren't many tourists. While waiting for her husband's return, the narrator visits a church covered by layers of graffiti. Each layer is painted by a new conqueror but the old layers are still visible, leaving an "extraordinary…record of conflict." There's tension between the tourists and the locals. The employees at the hotel seem to be holding something back from the narrator, with their strange looks and careful wording. My favorite part of any story tends to be the interactions between characters, but most of this story takes place in the narrator's head. She works as a literary translator and her understanding of the complexity of language also applies to her understanding of people and their actions. I really enjoyed the narrator's astute, sometimes uncomfortable, observations about relationships. She's constantly observing the people around her, interpreting them through their body language and vocal intonations. She imagines what might be going on in their lives with an enormous amount of detail.
Perhaps wife and husband and marriage itself are only words that conceal much more unstable realities, more turbulent than can be contained in a handful of syllables, or any amount of writing.
What led the narrator's previously happy marriage to this impasse? Alone at the hotel, she has plenty of time to think about the complexity of marital relationships and the undefined borders that result when a marriage ends. Despite everything that has happened between her and Christopher, she still feels a pull to him. She wonders how he will react when he sees her. Will he be apprehensive or hopeful? She explores the cruel gap between naive expectation at the beginning of a relationship and reality of living with another person long term. The end of her marriage makes her see the depth that aging and experience add to our perspective. She examines the roles of the mother, the wife, the mistresses in her husband's life. As more information about Christopher's life becomes known, she notices how "experience accumulated in haphazard places, the wrong bits of knowledge residing with the wrong parties." In her interactions with others, the unspoken social rules where "we pretend we do not know what we in fact do know" come into play. She's hyper aware of the illusions we uphold for the sake of others and ourselves. When the nature of her separation changes, all the pretending gets to be too much. She tries to properly portray her roles, but she second guesses her reactions and feels guilty for not behaving correctly.
At the time, I was like any young person looking at an old person—even if I was not that young, and nor was Christopher—and like any person who cannot believe that they will grow old, much less die, I could not believe that our marriage could become like [my in-law's] marriage, much less fall apart completely….[Their marriage] might have been a terrible marriage, built on betrayal—although what was really meant by the word terrible, there were betrayals that looked unforgivable from the outside and that were nonetheless forgiven, and there were forms of intimacy that looked nothing like the name—but it was nonetheless a marriage. Whereas mine had ended….One of the problems of happiness—and I'd been very happy, when Christopher and I were first engaged—is that it makes you both smug and unimaginative.
In A Separation, things the narrator thought could never happen when she first met her husband actually occur. The telling was too cold and cerebral for my tastes, but it was a well-written look into the disintegration of a marriage. Many elements reminded me of other literary tales that feature dysfunctional marriages: The Diver's Clothes Lie Empty (woman travels to exotic locale after husband's betrayals, mostly in her head), Fates and Furies (ruminations on marriage), The Dinner (intellectual feel, uncomfortable observances), Listen to Me (tense atmosphere of a mystery, but actually a story about marriage).
Related Posts