I received this book for free from NetGalley, St. Martin's Press in exchange for an honest review. This does not affect my opinion of the book or the content of my review.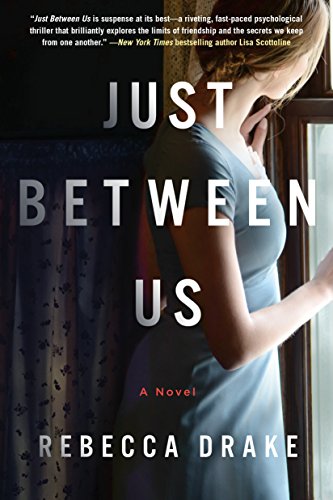 Just Between Us

by Rebecca Drake
Published by St. Martin's Press on January 9th 2018
Genres: Fiction, Thrillers, Suspense, Contemporary Women
Pages: 304
Format: Electronic ARC
Source: NetGalley, St. Martin's Press
Buy on Amazon
Goodreads


"You never really know what happens in someone else's marriage."
3.5 Stars. How far would you go to protect a friend? Three women begin to suspect that the fourth member of their group is being abused by her husband. Keeping her safe becomes their number one priority. One late evening their worst fears come true, but not in the way they expect. They must deal with the fallout from that night and the subsequent strain on their families and their friendship.
We were polite women living in a civilized society where people rarely did more than whisper about one another's marriages. We tried reasoning with her and spent hours worrying about her, but ultimately we did nothing, watching from a distance like moviegoers at a disaster film, tense and expectant, waiting for the awful yet inevitable conclusion.
I recently watched the first episode of Big Little Lies, so it was impossible not to make comparisons within the first few chapters: women whose children attend the same school become close, they frequently meet at a local coffee shop, and their wealthy, beautiful friend is possibly being abused. That's where the similarities end for me! The chapters alternate between four women with very different lives:
Sarah – Former lawyer, now a stay-at-home mom. Blunt and no-nonsense.
Julie  – Realtor. Type-A, effervescent, optimistic. Always wants to see the best in people.
Alison – At-home IT consultant. Pessimistic. There are parts of her past she'd rather keep hidden. Sarah and Julie were already friends when Alison came along.
Heather – (32) Former model. Now married to a well-known plastic surgeon. Generally appears relaxed, without a care in the world. She's the newest member of the group. They've known her for almost two years.
So much in life hinges on chance—this date or that time, the myriad small, statistical variations which social scientists like to measure. . . . It's only when I look back that I see this moment as the beginning, how everything started, though of course I didn't understand the significance then. . . . This is the way of fate—all of these pieces that must slot into place, one leading to the other, a progression toward a conclusion that seems inevitable only after the fact.
LIKES
• The premise of several women working together to help a friend really appealed to me.
• The relationship dynamics – It's hard to imagine these women being friends if their kids didn't go to school together! The divisions between them start to widen when they're under pressure: different backgrounds and personality quirks, economic divisions, parenting differences, working vs. stay at home. Sarah and Julie were friends before they met Alison, so Alison often felt like a third wheel before Heather came along.
• The little insights tucked into the story: "I've often thought successful marriages are as much about couples knowing how to create space for each other's moods as they are about togetherness and communication."
• I assumed the main twists before I even started reading, but I was wrong about everything else!
• The kid's conversations were adorable and hilarious. I appreciate when an author injects humor into otherwise dark subject matter!
Once when I was talking about the past with my brother, he said that being a police officer had taught him that the line that separates the civil from the uncivil is very fine, and that anyone is capable of anything given the right set of circumstances. I hadn't believed him. There was a huge difference between the monsters and us, I'd argued. It wasn't a fine line at all, but a gulf separating the law-abiding from the lawless. I hadn't understood that dozens of smaller choices lead to those big moral decisions, as if each step were a point along an invisible map leading to what only feels upon arrival like a surprise destination.
DISLIKES
• "She's talking to Alison? I thought I was in Alison's chapter already!" – Unless I was in Alison's chapters, I was always wrong about whose chapter I was in! The four women have clearly-defined personalities, but I had a hard time telling them apart. I kept having to stop and figure out whose brain I was inhabiting!
• I didn't buy the event that set the journey to self-preservation in motion because the relationships lacked longevity and depth.
• There comes a point of absurdity where I either shake my head in annoyance or just sit back and enjoy the ride. The women have mild personalities and the first half was standard domestic fiction, so it was hard for me to accept the shift in the middle. I need a side of theatricality with my ridiculous! I had the hardest time imagining Sarah being so agreeable to some of the events in the book (though she did have the hardest time dealing with it all). Their escalating antics in the second half reminded me of the first rule of improv: "Say yes."  Sure, one of them would occasionally pipe up with a few lines of dissent, but they quickly dived headfirst into whatever insane plan the other one had concocted.
• They started taking themselves too seriously and had an absurd conception of their abilities and expertise. Alison works in the technology field and her superior Googling skills are mentioned, but it was baffling to me when she seriously—albeit reluctantly—entertained the idea of hacking a government website.
• The husbands were way too clueless.
There are no monsters, just deeply flawed people, all of us given that power to choose, some of us making choices so damaging that they ruin the lives of those they claim to love. I believed once in those clear lines, the good and the evil, the perpetrator and the victim, and now I see that all of us end up playing both roles at some point in our lives. We hurt those that we love, we make choices that we can't undo, we throw ourselves headlong into battles in the name of rescuing people who never asked to be saved. . . . . None of us are wholly innocent. We are all the damned and we are all the saved.
This book is about all the little choices along the way that lead us to unexpected places. Good people are capable of doing bad things. They may not even realize how far they've gone until they've already crossed a line. There's also a message about talking to your friends and being less polite. Early on, one of the characters muses about how her generation is more open than her parents' more polite generation. It turns out that the "openness" of the modern age is mostly superficial. At the end, she realizes how much she didn't know about her supposedly closest friends. There were so many missed opportunities to provide her friends a shoulder to lean on because she was too polite to pry. You never know what's going on behind closed doors, but sometimes all you have to do is ask.
I was actually smiling as I typed my dislikes! The second half was a lot of fun in a "What the heck are they going to do next!?" kind of way. It got a little too crazy for me, but I think readers of the genre will like this book. I enjoyed the writing and would read another book by this author.
Related Posts