I received this book for free from NetGalley in exchange for an honest review. This does not affect my opinion of the book or the content of my review.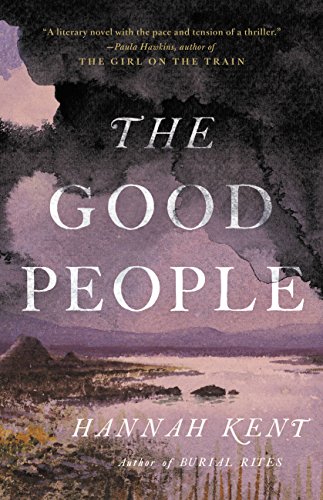 The Good People

by Hannah Kent
on September 19th 2017
Genres: Fiction, Historical, Thrillers, Suspense
Pages: 400
Format: Electronic ARC
Source: NetGalley
Buy on Amazon
Goodreads


Since this book is more about the series of events that led something to happen than what actually happened, my full review is a probably a bit too revealing! Here's the short version: In nineteenth-century Ireland, a new widow grapples with the hysteria surrounding her grandson, a four-year-old boy stricken with a mysterious condition that renders him unable to walk or talk. Desperate for a cure, she seeks the assistance of the village handy woman. It's a slow-moving story full of nature descriptions and introspection. The atmospheric setting and community dynamics were engrossing, so I quickly settled into the story. Alternating between the perspectives of three women, Hannah Kent explores the capacity for depravity in otherwise "good" people and shows the terrible effects righteous certainty. Warning: child abuse.
Nóra had always believed herself to be a good woman. A kind woman. But perhaps, she thought, we are good only when life makes it easy for us to be so. Maybe the heart hardens when good fortune is not there to soften it.
(Ireland, 1825-1826) Nóra Leahy's husband dies unexpectedly. Suddenly, she's a widow and the sole caretaker of their four-year-old grandson Micheál. Micheál cannot walk or speak; he stares blankly into space and wails intermittently throughout the night. Unlike her husband, Nóra never bonded with the boy. She resents that he can't show her any affection or appreciation. Since the "bone-racked" boy arrived, her life and the lives of her neighbors have been plagued by misfortune: the untimely deaths of Nóra's husband and daughter, bloody eggs, and dry cows. There are whispers that he's a changeling and predictions that there'll be another death in her family soon.  She keeps Micheál hidden indoors, away from the eyes of prying neighbors, but that only fuels the gossip. Nóra is tormented by the suggestion that her grandson is responsible for everyone's recent woes, including her own. With her mind clouded by grief, loneliness, exhaustion, and alcohol, she becomes obsessed with restoring him to the lively boy he was before he came to her.
She had the sense that something terrible was happening. That in some irreparable way the world was changing, that it spun away from her, and that in the whirl of change she was being flung to some forsaken corner.
Nance is the village handy woman. She provides herbs and cures for various ailments and assists in births and deaths. She has always lived on the fringes of society because of her differences: "She stood in for that which was not and could not be understood." While people usually keep her at a distance, they aren't afraid to come to her when they have no other options. She's been allowed to make a home for herself at the outskirts of this village for the past two decades, but the new priest is turning the townspeople against her. He preaches that their Catholic faith and superstitious beliefs are incompatible. People are beginning to make connections between Nance's mysterious work and several unfortunate incidents that have occurred around the village. She can feel the heavy weight of the community's doubt and suspicion bear down on her. She knows that she can't handle being exiled at her advanced age. Rather than abandon the old ways, she clings tighter to tradition. If she can cure Nóra Leahy's grandson, she'll be able to prove her knowledge and usefulness to the townspeople.

There was no telling the shape of a heart from the face of the one who carried it. (Mary)
Fourteen-year-old Mary was forced to leave home and seek work to help provide for her large family. Nóra hires her to help with chores and the boy. When she meets Nóra, she thinks she has found a safe place to live for the next six months. Nóra wasn't fully forthcoming about her situation, so Mary is shocked when she enters the home and discovers the child's condition. She is frightened at first, but becomes very protective of the boy.
The valley was beautiful. The slow turning towards winter had left the stubble on the fields and the wild grasses bronzed, and the scutter of cloud left shadows brooding across the soil. It was its own world. Only the narrow road, wending through the flat of the valley floor, indicated the world beyond the mountains.
I *had* to read this book because the description reminded me so much of The Wonder by Emma Donoghue, one of my favorite books from 2016. They are very different stories, but both books are based on real events and have an immersive setting. There was a little too much description of the landscape in Nance's chapters, but her bond with nature is central to her story. Spending time in the claustrophobic village was so hypnotic that I thought I misread the genre. The haunting atmosphere makes it feels like there's really something supernatural lurking in the periphery. I think that's a credit to how objectively the author approaches her characters. She captures how mysterious and unknowable the world must have felt to these people. It was jarring when we finally broke outside the confines of the community and are forced to recall how secluded these villagers were.
The people in the tight-knit community are "tied to one another by blood and labour and a shared understanding of the traditions stamped into the soil by those who had come before them." Mary is the outsider's perspective but she also places faith in the superstitions. Isolation and lack of education create a fertile ground for panic:"A lot of fears are born of sitting too long alone in the dark."  Once suspicion is cast and the suggestion of supernatural causes grips the community's imagination, hysteria thrives. Reason exists in the town, but it doesn't hold the same power that superstition does. Deep-seated beliefs and power differentials make it difficult for even those with conflicted consciences to follow their moral compass. Sometimes their closeness to the people involved prevents them from seeing how dire the situation has gotten until it's too late.
"It is out of respect that I call them the Good People, for they do not like to be thinking of themselves as bad craturs. They have a desire to get into Heaven, same as you." (Nance)
I expected a more uplifting story based on the description: "three women in nineteenth-century Ireland are drawn together in the hope of rescuing a child from a superstitious community." From an outsider's perspective, it actually seemed like the opposite was happening! This makes The Good People far more disturbing than The Wonder. A helpless boy is being mistreated in increasingly awful ways and there doesn't seem to be anyone who is capable of effectively advocating for him. The title refers to the fairies ("said to be of middle nature between Man and Angel"), but also to the characters. As sickening as some of their thoughts and choices are, no one in this story thinks of themselves as a bad person–even their worst acts are rationalized with "noble" intentions. At Nóra's weakest point, Nance provides her with both a reason and a remedy for her grandson's suffering; surely it would be a disservice to the boy to ignore Nance's offer. Nance truly believes her contributions are essential to the community and that her skills can help the boy. There are also those in the community that weaponize belief for their own rationalized purposes.
"All this talk of fairies. Sure, people will tell themselves anything to avert their eyes from the truth of a matter."
Trauma, desperation, and tradition converge, driving people to commit terrible acts that they see as justifiable. This work of historical fiction felt like a horror story, because it's a reminder of the wickedness lurking in ordinary people. Does almost everyone have a breaking point? Are some people's thresholds for pain and suffering much lower than others? Nóra's transformation was one of the most chilling parts. She had never visited Nance for a cure before. She didn't have a history of bad behavior. However, something shifts inside of her after she experiences one too many traumas in short succession. I don't think the Nóra or her neighbors could've ever predicted the position she'd end up in. View Spoiler »It was interesting to see how the women see themselves after they've been exposed and the (figurative) spell has been broken. I was also intrigued by the community's reaction. They harshly judge the women, but at the same time the results of the women's actions seem to bring a disturbing sense of relief to the community. « Hide Spoiler It's a very uncomfortable story to read, but I really liked the sense of place and the way Kent approached her characters. I'm really looking forward to reading Kent's debut Burial Rites!
'The cod swims in deeper waters. There's a mighty peace in the deep, and that is all the cod is after. The untroubled deep. But a storm will toss the water about like a devil. Fish, weed, sand, stones, even the old bones and bits of wrecked ships, 'tis all tossed feathers when the storm hits. Fish that like the deep are thrown into the shallows, and fish that have a need of the shallows are pushed into the deep. 'Begod, I tell no lie. But what does the cod do when he senses a storm in the water? He swallows stones. Faith, 'tis true or I'm not your da. Your cod will fill himself with stones to stay out of the mighty swell of the sea. He will sink himself. All fish are afraid of thunder, but only some know how to keep themselves out of the way of it."
---
RELATED:
• "To do evil a human being must first of all believe that what he's doing is good, or else that it's a well-considered act in conformity with natural law."―Aleksandr Solzhenitsyn, The Gulag Archipelago (pulled from Everything You Love Will Burn by Vegas Tenold)
• An expert asks: Do we all have an evil, dark side? (USA Today, March 2007) – "• So-called inner character seldom survives if familiar social guideposts, such as family and normal routines, fall away. • Few people will challenge a widely accepted injustice." I came across this article while following a recent case (Dallas Morning News, October 2017) that reminds me a little bit of Micheál's story.
•"True horror can prove so quiet that one almost believes nothing is happening." – Stephane Gerson
• A Qualitative Analysis of Power Differentials in Ethical Situations in Academia – Saving to read for later!
Related Posts