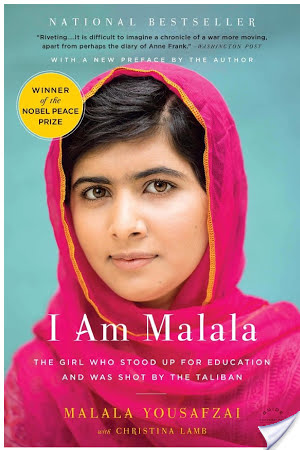 I Am Malala

by Malala Yousafzai
on October 8th 2013
Genres: Biography & Autobiography, Personal Memoirs, Women
Pages: 336
Format: eBook
Buy on Amazon
Goodreads


3.5 Stars for the Book, 5 Stars for the heroine and her story! "When I was born, people in our village commiserated with my mother and nobody congratulated my father."
When Malala was only eleven years old, she wrote an anonymous blog for the BBC detailing life under the Taliban. One of the Taliban's many goals was to prohibit girls from getting an education. With her parent's support, she very publicly advocated for the education of young women. On October 9, 2012, a Taliban assailant shot fifteen-year-old Malala in the head at point-blank range because of her activism. Miraculously she survived the assassination attempt and continues her advocacy to this day. Along with Kailash Satyarthi, Malala was awarded the Nobel Peace Prize in 2014 for "their struggle against the suppression of children and young people and for the right of all children to education." She is the youngest-ever Nobel Prize Laureate.
"Education is education. We should learn everything and then choose which path to follow. Education is neither Eastern nor Western, it is human."
I Am Malala: The Girl Who Stood Up for Education and Was Shot by the Taliban (by Malala Yousafzai & Christina Lamb) is part memoir and part history & politics lesson. The history and politics are important to understanding the context of the events in Malala's life. I think those parts were really interesting, but it might be too dry for anyone who is easily bored by history. I really liked reading about important news events from the Pakistani perspective. I learned more about her country, her culture, and Islam. I always thought of Pakistan as a desert, so I thought she was exaggerating when she called her village "the Switzerland of Pakistan." Google Images confirmed that it was no exaggeration; Swat Valley is gorgeous.
The story is told in five parts. Part One tells about her life before the Taliban and also includes family history. In Parts Two and Three, she describes the slow creep of the Taliban into Swat Valley territory and the battle between the Taliban and the Pakistani military. It is a scary and it is a story we've heard many times over the course of history. I was really affected by all the ordinary people trying to live their lives the best they could in the midst of extreme hardship. Part Four covers the shooting aftermath and her fight for survival. Part Five begins after she wakes up from the induced coma.
Her father: "This is how these militants work. They want to win the hearts and minds of the people, so they first see what the local problems are and target those responsible, and that way they get the support of the silent majority. That's what they did in Waziristan when they went after kidnappers and bandits. After, when they get power, they behave like the criminals they once hunted down."
My favorite sections were anecdotes from Malala's life. The best part of reading is being able to get inside the head of someone who lives a completely different life than you! Malala is so mature, wise and perceptive, it can be hard to remember that she was only 16 at the time of publication. I love how this book reminds you she is still a normal teenager who loves Twilight, experiments with hair and make-up, and quarrels with her brothers and her best friend. It just so happens that in her spare time, she works to make the world a better place! Even though Malala paid a high price for her activism, she displays amazing strength of character and never wavers from her goals. Malala is living proof that if you are passionate and you work hard, one person can make a positive impact on the world. Her parents are pretty amazing as well!
"I loved reading about Dorothy and how even though she was trying to get back home she stopped and helped those in need like the Cowardly Lion and the rusty Tin Man. She had to overcome a lot of obstacles to get where she was going, and I thought if you want to achieve a goal, there will be hurdles in your way, but you must continue."
My only complaint about this book is that I think it was rushed to publication. The release date was exactly one year after the shooting. My reading enjoyment goes way down when I start thinking, "I sure wish the publisher would have spent more money on editing." The personal stories and the history do not flow together cohesively and some of the anecdotes were all over the place. Because of the poor transitions, I felt like I had missed whole sentences or paragraphs. Parts read like a meandering conversation with digressions, so I wonder if Christina Lamb transcribed at least some of it from audio interviews. Many of the reviews for the Young Readers version with a different co-author claim it has better flow. I have also read that it has less history and politics, so if you think that the drier portions of the book might keep you from reading Malala's story, the Young Readers version might be worth a try.
Memoirs aren't my favorite genre, but Malala has an important and relevant story to tell. I recommend this book to everyone, especially those under 18. It can be so easy to take public education for granted, but unfortunately it is not a right that every child in the world is guaranteed.
Related Posts