I received this book for free from LibraryThing Early Reviewers in exchange for an honest review. This does not affect my opinion of the book or the content of my review.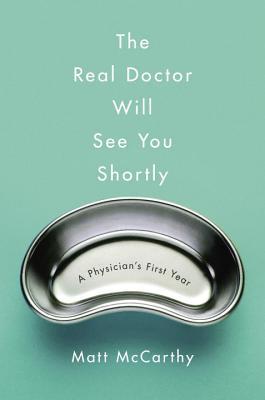 The Real Doctor Will See You Shortly

by Matt McCarthy
Published by Crown/Archetype on April 7th 2015
Genres: Biography & Autobiography, Medical, Personal Memoirs, Physician & Patient
Pages: 336
Format: Print ARC
Source: LibraryThing Early Reviewers
Buy on Amazon
Goodreads


"You know," he said, patting me on the back, "there is nothing more rewarding than bringing a ninety-five-year-old demented woman with widely metastatic lung cancer back to life. Well done."
One of the most disturbing things I have realized as I've grown up is that, despite what I thought as a child, most adults are pretty much just winging it. I had excluded doctors from that assessment, for my own peace of mind. Of course everyone has to start somewhere and The Real Doctor Will See You Shortly is a candid memoir about Matt McCarthy's starting point. When Matt begins his intern year at Columbia University Medical Center in New York, he quickly realizes that four years of medical school has left him unprepared for the practical work of dealing with actual patients.
Matt McCarthy is brutally honest as he details his biggest mistakes and biggest triumphs during his intern year. He struggles with connecting to patients and figuring out how much emotional involvement is too much. He introduces us to a few of the patients that made the biggest impact on his bedside manner and made me feel just as invested in their outcomes as he did.
"It occurred to me that we were all wrestling with some form of impostor syndrome, unable to internalize and appreciate our own accomplishments. There was always someone more impressive, someone who could make you look foolish if they really wanted to. Underneath the glimmering personas, some of us–including me and the women in my pod– secretly worried that we didn't deserve to be doctors, we didn't deserve to hold life in our hands, we weren't the ones who should be leading complex discussions about comfort measures and vegetative states. The key to residency was figuring out ways to ignore those feelings without turning into a monster."
The tone starts out as comedic, but it does take a more serious turn in Part 2 after he has an work-related accident that puts his own health in danger. McCarthy is a frazzled ball of stress for the first half of the book, which is completely understandable as his life becomes a complete whirlwind with minimal sleep. Much of the intern's education is by trial and error and some of the supervisor advice seemed to boil down to "do what your heart tells you." Who wouldn't be panicked when the stakes are so high? McCarthy addresses his subject in a relatable way, even to those of us who aren't doctors. Who hasn't felt like a complete fraud, especially when starting a brand new job after college? Despite some parts that are a little unnerving from the patient point of view, you will cheer Dr. McCarthy on as he establishes a solid footing in his profession and eventually becomes "real" doctor.
While illustrating the absurdities and realities of his first year, McCarthy provides an interesting view of teaching hospitals in the United States.I will admit that I am not sure that I like thinking about my doctor as a vulnerable human being! It is comforting to think about doctors as infallible experts who make decisions based on specific set of scientific data, but this book made me appreciate how many subjective judgement calls doctors actually have to make.
If you are curious about the transition from medical student to doctor or you are a fan of the medical-related parts of Grey's Anatomy *, I think you will enjoy this book.
*No supply closet rendezvous, ferry accidents or plane crashes in this book!
I received this book for free from the Library Early Reviewer's Program
Related Posts