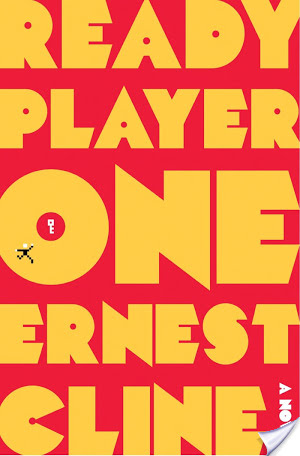 Ready Player One

by Ernest Cline
Published by Crown Publishers on 2011
Genres: Fiction, Science Fiction, Hard Science Fiction, General
Pages: 374
Format: Audiobook
Buy on Amazon
Goodreads


Ready Player One by Ernest Cline is such a fun and entertaining book! My husband doesn't enjoy reading as much as I do, but I've started checking out non-fiction audiobooks that relate to his interests on Overdrive*. We listen to them on road trips and it has been such a great way to share my hobby with him. As soon as I read the blurb on the cover of Ready Player One (Matrix meets Willy Wonka, video games, 80s nostalgia and virtual worlds), I knew it would be the perfect fiction book to start with. The best part of this book was listening to it together and seeing how much he enjoyed it! He loved it so much that we listened to the last three hours at home, instead of waiting for our next trip!
The year is 2044 and the entire world is plagued by poverty and unemployment. The real world is in such bad shape that people are living a majority of their lives in the OASIS, a virtual utopia. The OASIS even contains an educational system. When the the eccentric, 1980s-obsessed creator of the OASIS James Halliday dies, he leaves behind a video message revealing that he will leave ownership of the OASIS and his entire multi-billion dollar fortune to the first person who can solve the series of challenges he has left hidden within the massive virtual world. Some people devote their entire lives to poring over 1980s culture, in order to find some hint to decipher Halliday's cryptic clue and locate the first challenge. Everyone is stumped! Five years after Halliday's death, orphaned high school senior Wade Watts finds and beats the first challenge and the competition goes into overdrive!
The story is told in first person, from Wade's point of view. The writing is really straight forward and easy to read. The best parts were the scenes inside the the virtual utopia of the OASIS. The descriptions were so vivid that I kept forgetting that much of it was set in a virtual world rather than a real, fantastical world. I was born in 1982 and a bulk of my pop culture memory relates to the 1990s, so I wasn't overly familiar with 100% of the references. Cline does a good job of giving an overview of the most important mentions, so being born in the 1990s or 2000s shouldn't be a hindrance to reading this book. The challenges were based off 1980s video games and it was fun to see what challenge Cline would concoct next! The action was well-paced and I was always eager to start the next chapter. Wil Wheaton did a fantastic job with the voices and transitioned flawlessly between characters. I think I enjoyed this story more as an audiobook, than I would have in written form.
I liked the friendship that evolved between Wade and a few of the other contestants. The message about not missing out on your real life by spending your entire all of your time in a virtual world is relevant and will continue to be relevant as technology evolves.
The negatives didn't detract from my overall positive feelings of the book. There are a lot of exhausting info dumps, especially in the beginning. It felt like there was some master checklist of 80s geek culture and the author wanted to mention them all! The book was so focused on 80s culture that it would throw me off when general geek culture from other decades was mentioned. Of course no decade or generation exists in a vacuum, so that is more my issue than Cline's. The biggest issue for me was that things seem consistently go well for Wade and he gets out more than a few dilemmas with some really good luck, particularly during his crazy plan at the end. The story could have benefited from more tension at points.
The more books I read, the harder it is to read without a super critical eye. Ready Player One was such fun and it reminded me of my love of reading for reading's sake. I'm looking forward to the movie and Cline's next book! I would recommend it for anyone who is looking for a fun "popcorn" read and a little escapism. It would also be a great book to recommend to a friend who isn't a big reader.
Related Posts