I received this book for free from St. Martin's Press in exchange for an honest review. This does not affect my opinion of the book or the content of my review.
This book may be unsuitable for people under 17 years of age due to its use of sexual content, drug and alcohol use, and/or violence.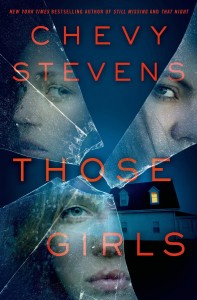 Those Girls

by Chevy Stevens
Published by St. Martin's Press on July 7, 2015
Genres: Thriller
Pages: 376
Source: St. Martin's Press
Buy on Amazon
Goodreads


The Campbell sisters (Dani, Courtney and Jess) escape their abusive father, only to run into bigger trouble just down the road. The sisters end up assuming new identities (Dallas, Crystal and Jamie) and they start a new life in a new city. Eighteen years later Jamie's teenage daughter Skylar starts asking questions, forcing them to deal with the traumatic past that still haunts them.
The first half of the book takes place during July 1997 and is narrated by Jess, the youngest sister. Halfway through the timeline jumps forward 18 years to 2015 and is told from the perspective of Skylar, with occasional chapters from Jess/Jamie. The writing is straightforward and easy to read.
There is a Lifetime movie quality to the story and the characters are flat, especially in the second half. Even so, the writing is engaging and I couldn't put it down. I liked the strong bond between the sisters. The sisters are so different from each other and they each have different ways of dealing with their past trauma. Much of the drama happens in Cash Creek, a place that is so creepy that I immediately felt uneasy whenever reading about it.
The last 100 pages were so intense that my heart was actually pounding! I was a little unhappy with the end, because View Spoiler »one character seems to die just so that the entire story can be wrapped up neatly in the last few pages. I don't really like when stories are wrapped up that neatly and quickly, but it was nice to have a somewhat hopeful ending after reading about all the violence the sisters had to endure. « Hide Spoiler I am curious what the Luxton boys were up to during the time gap. View Spoiler »Surely they didn't stop with "those girls." I thought there was going to be a town conspiracy and a many more dead bodies found at the end. « Hide Spoiler
Fast-paced, easy read. If you read dark. disturbing thrillers, you will probably like this book. This book will be released on July 7th 2015. Warning: There are disturbing, graphic scenes depicting abuse and sexual assault.
Related Posts