I received this book for free from NetGalley in exchange for an honest review. This does not affect my opinion of the book or the content of my review.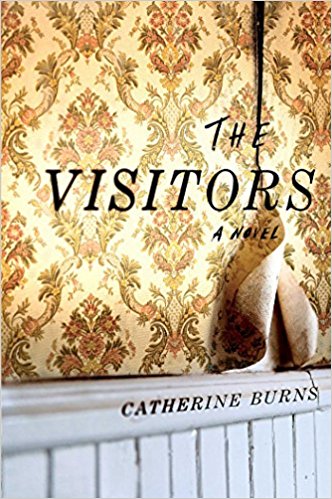 The Visitors

by Catherine Burns
Published by Simon and Schuster on September 26th 2017
Genres: Fiction, Literary, Thrillers, Suspense, Psychological
Pages: 304
Format: Electronic ARC
Source: NetGalley
Buy on Amazon
Goodreads


Fifty-four-year-old Marion and her older brother John have lived together for the last twenty years. Marion is jealous of the time John spends in the cellar with his "visitors." She never sees the mysterious inhabitants, but she doesn't dare go down the dark stairwell to investigate. It's best not to ask too many questions!
Like a white bird, the scream flew up from the depths of the cellar, then became trapped inside Marion's head. As it flapped its wings against the inside of her skull, she wondered how it had got through three floors of the big strong house to her dusty little room in the attic?
The eccentric siblings live in the six-bedroom home they grew up in. The house and its inhabitants are perpetually stuck in time. Their neighbor's home is exactly the same style, but "[seems] to exist about a thousand years in the future." Their mother meticulously maintained the estate when she was alive, but its condition has rapidly deteriorated in the two decades since her death. Every surface is covered in dust and cobwebs and the hallways are littered with broken appliances and old newspapers. The home is filled with so much junk that Marion feels "like a little mouse trying to burrow through it all." Mother would not approve!
The specter of the visitors is always hanging over the story, but most of the book is about Marion and John's unhappy childhood and the disturbing episodes that shaped Marion. After years of mistreatment, Marion is frumpy, unassertive, and emotionally stunted. She's been largely ignored her entire life, but the people who do notice her repeatedly tell her that she's unattractive and unintelligent. Her brother once said that if the human race was more like Marion, "it was unlikely they would have evolved much beyond the level of jellyfish." Her parents had little ambition for her; her temperamental father once said that Marion was "just too sensitive for the big wide world, and more suited to staying at home." Their mother clearly favored John and seemed to resent Marion's existence. There were many finicky rules in their home and Mother was always fussing at them do things in the proper manner. Even decades after Mother's death, Marion continues to hear Mother's passive-aggressive voice berating her from the great beyond. Their mother constantly told them stories of all the horrific things that lurked in the outside world, while willfully ignoring what was going on inside her own house.
Marion is offended when people see her as old because she still feels like a child inside. She's never experienced life outside of her family home. Life has passed her by, but she feels powerless to change her circumstances. She's internalized every rude thing that's been said about her and doesn't think she's capable or deserving of obtaining anything better. She feels trapped, but part of that is self-inflicted. She feels like she needs a physical barrier between her and the outside world. As meek as Marion is, she also has a nasty streak. She has a tendency to blame the victim in the television shows she watches. The harsh judgments give her an intoxicating sense of power that she doesn't usually get to feel in her day-to-day life.
John is arrogant and cruel, but Marion has always idolized him. She always defers to his "superior" judgment and he knows exactly how to manipulate her. Sometimes she stands up to him, but she quickly backs down because she can't withstand the crushing weight of his silent rage. There's no way she can betray her beloved brother. What would happen to her if he left? Plus, Marion has a vivid imagination and isn't confident in her perceptions. She often escapes to a rich fantasy life in her head, where she has a dramatic and meaningful existence that mirrors the Lifetime-esque movies she enjoys watching. Sometimes her daydreams become a little too real, causing her to wonder if she's going mad like her Great Aunt Phyllis. Did she conjure up the cellar dwellers to make her life more exciting? 
"You are the kind of evil that comes from nothing, from neglect and loneliness. You are like mould that grows in damp dark places, black dirt gathered in corners, a fatal infection that begins with a speck of dirt in an unwashed wound."
If you like character-driven stories that embrace their unrelenting darkness, this book might be for you. It was my ideal type of creepy slow burner: bizarre family dynamics, damaged characters, and a large, decaying house. It's the type of twisted book that makes me think there is something wrong with me for liking it! 😀 (Perhaps an attraction to dark tales is a side effect of being born near Halloween!) While reading, I felt discomfort, dread, uneasiness, horror, and a little bit of nausea. I hope I'm not being too misleading in saying this, but the general mood and atmosphere reminded me of Faulkner's A Rose for Emily (but really, it's no worse comparison than Room!) I recommend not reading the publisher's description, because it reveals something that happens in the last quarter of the book. I don't think I would've been a fan of this one if I was anticipating anything specific, especially something so deep in the story! Warning for animal lovers: Animals tend to meet terrible fates around this family.
Sometimes Marion imagines what awful things must be happening in the cellar, but she quickly dismisses those unpleasant thoughts. It's much easier not to think about it! Throughout the story we see how easy it can be to turn a blind eye to the obvious, even things inside of ourselves. The characters in this book have no trouble living with their sins. It makes you wonder what secrets the most unassuming people could be hiding and what unseen dangers could be lurking close-by. The Visitors is a chilling tale that's sometimes a little too terrifyingly real.
Related Posts